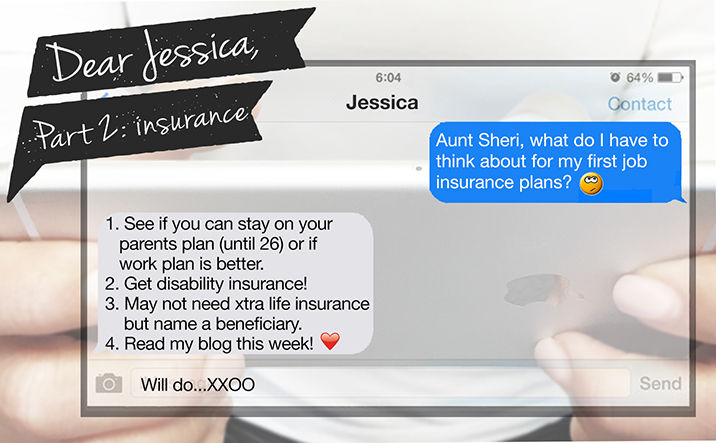 Sheri's Advice to Her Niece: How To Choose Among Your Employer's Insurance Plans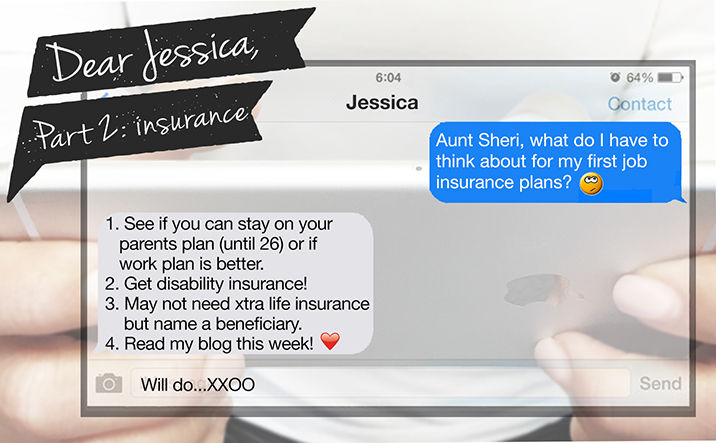 When my niece Jessica arrived home recently from her first day in her first career as a journalist, she brought a bounteous stack of "homework" along with her. Nope, this wasn't her first writing assignment. It was the enrollment forms for a variety of employee-sponsored insurance plans. Let's review some of the advice I offered her on how to make the most of the benefits now available to her.
HEALTH INSURANCE:
Resources: ; Department of Labor, Healthcare.gov
In her column, Health Insurance After College: How To Keep It & What Happens If You Lose It, "Tax Girl" Kelly Phillips Erb explains how the Affordable Care Act ("Obamacare") impacts your health insurance choices:
"Young adults are generally allowed to stay on a parent's health care plan until age 26 so long as the plan offers coverage for dependents. Under the rules, a child under the age of 26 can remain on a parent's health plan even if the child is married, attending school, not living with a parent, or not eligible to enroll in their employer's plan. Coverage must also be extended to a child under the age of 26 even if the child is not claimed as a dependent on their parent's tax return."
So if you have not yet celebrated your 26th birthday, perhaps your best bet is to stay on one of your parents' health plans, if your parent and his or her employer will have you. If this is not an option, Erb outlines other possibilities to consider, including evaluating your own employer's plan, or applying for coverage through the Marketplace or your state's plan.
I do not recommend that you go without coverage; pick one of the available options, even if it's not optimal. If you wager with your health and you lose that bet, there is simply too much potential risk that could dog you and your family for the rest of your hopefully long life.
DISABILITY INSURANCE:
Resources: Low Load Insurance Services; 360degrees of Financial Literacy
While he was a columnist for The Wall Street Journal, Jonathan Clements wrote on this subject in his article, "Financial Advice for New College Grads." The article requires a subscription to access, but the gist of his commentary was that, as a recent college grad who is just entering the workforce, you should think of disability insurance as "your most valuable asset." That's because it protects your enormous, untapped future earning power, should you experience an unexpected mishap.
Clements observes that recent grads are typically loaded down with debt, including 60 percent with college loans averaging just over $27,000. At the same time, your earning potential is enormous. Citing Census Bureau calculations, he says: "Figured in today's dollars, those earnings might range from an average $3.5 million for engineering majors to $1.8 million for education majors."
With an appropriate goal of setting aside annual savings of 12–15% of your "human capital," you can be well positioned to retire on a timely basis if you can eliminate your debt and start saving early and often.
That's why the need for disability insurance is likely to trump your need for life insurance at this stage in your life. It's very important to get a strong start on your lifetime of financial independence.
This table does a good job of outlining some key aspects of group disability coverage. It comes in two flavors: short-term vs. long-term. As your income grows, there will come a time when you will likely also need some supplemental, individually owned coverage. We covered this in our previous blog "A Case Study on Disability Coverage."
For now, be sure to enroll in your employer's short-term and long-term disability plans if they have not automatically enrolled you.
LIFE INSURANCE:
​​Resource: Low Load Insurance Services
Life insurance has many purposes. One of the more important ones is to provide protection for your dependents if you die prematurely. As we wrote earlier on our blog "Making the Most of Supplemental Group Life Insurance," many employers offer no-cost basic coverage, commonly $50,000 or an amount equal to your annual salary. This should be all the coverage you need for now if you are young and single.
Employers often automatically enroll new employees in their basic plans, so you may not need to do anything other than name a beneficiary, i.e. who you want to receive the proceeds should you die prematurely. (Note that there are some reasons where even a young, single person might still need life insurance, as Alice Holbrook writes here on NerdWallet.)
FLEXIBLE SPENDING ACCOUNT:
Resource: Healthcare.gov
It is likely you won't need to use these plans when you are first starting your first job, but there is never a bad time to become familiar with them. Read this Healthcare.Gov overview on Flexible Spending Accounts, and consider your insurance plan homework complete.
---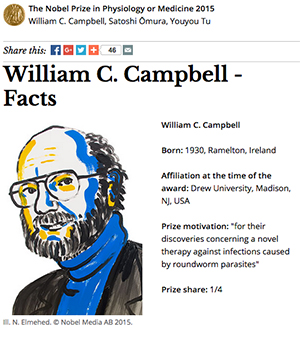 Sage Serendipity:  The 2015 Nobel Prize in Physiology or Medicine was awarded earlier this week.  One share of the prize is being awarded to William C. Campbell, an emeritus associate at Drew University  (just a few miles from our Morristown office) who had worked at Merck.  He won with Satoshi Ōmura for their work on developing the drug ivermectin that kills parasitic worms.
Richmond Sarpong, a chemist at the University of California, who grew up in Ghana, Africa, presents a TedX showing the influence this work had on him and his research. Carmen Drahl writes about Sarpong on the Forbes website "Despite living and working in the U.S., he hasn't forgotten his roots, and he is a living example of the far-reaching impact of today's Nobel Prize."