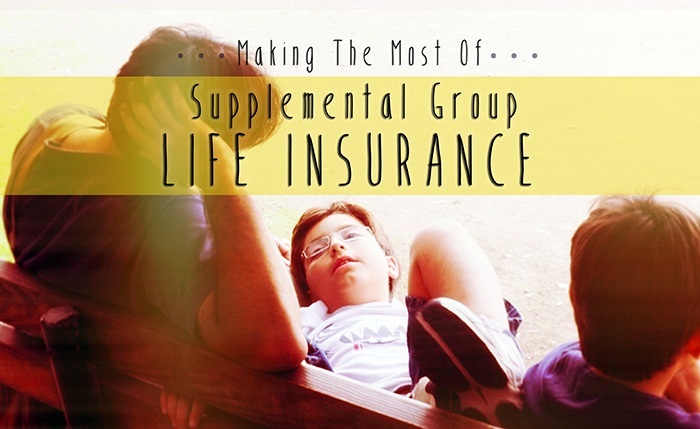 Making the Most of Supplemental Group Life Insurance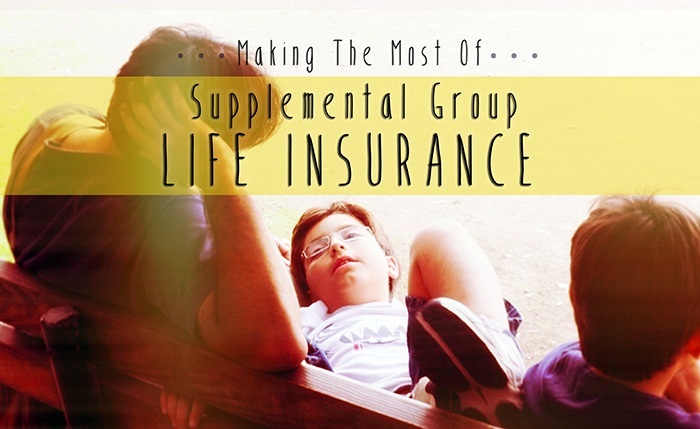 Employer-sponsored group life insurance can be a nice perk to help ensure that your loved ones are well cared for in the event of your untimely death. Most plans offer basic coverage at no cost to employees, along with supplemental coverage you can purchase at group rates. What are the factors to consider in deciding whether supplemental group coverage makes sense for you?
To address this question, we are pleased to share the following guest post from Mark Maurer, CFP®, MBA, President and CEO of Low Load Insurance Services. As Mark will explain in more detail, an employer's supplemental group life policy can be a simple, cost-effective solution when you are young, but as you age, especially if you remain in relatively good health, there can be cost savings and other advantages to shopping around for individual coverage. To understand more, we hope you'll read on … or be in touch with us for a personalized conversation.
---
Supplemental Group Life Insurance:
The Good and the Not-So-Good
By Mark Maurer, CFP®, Low Load Insurance Services, Inc.
Many larger employers offer their employees group life insurance — usually one to two times salary — with the employer picking up the tab (although you'll typically be taxed on coverage over $50,000). Many employers also offer supplemental group life insurance, for which you, the employee, pay the total costs. This article explores what to consider as you decide if and when supplemental group insurance is right for you.
Supplemental Group Life: It's Simple
Probably the biggest advantage of supplemental group life is its ease and convenience. When available, policies are usually "guaranteed issue," meaning there are no health questions or requirements beyond being actively on the job. Set-up requires little more than filling out and signing a simple application, and the premiums are typically taken out of your paycheck before you even have time to miss them.
Supplemental Group Life: Cost-Effective … To a Point
Besides the ease of use, premiums for supplemental group insurance tend to compare favorably with individually owned term policy rates — at least until you reach age 45.
The premiums you pay are based on male/female smoker/non-smoker rates and are "quintennial," meaning they stay level for five years and change at ages ending in 0 or 5. For example employee ages 30-34 pay the same rate, but then it increases for ages 35-39, 40-44, etc. Throughout, the plan is priced for a pool of healthy and ailing participants alike. This means group coverage pricing tends to be ideal if you are in poor health, but not necessarily ideal if you are healthy and hale.
Watch Out for Creeping Costs
If you have opted for supplemental group life coverage when you were young, it's best not to leave it on auto-pilot forever. If you remain in relatively good health once you're 45 or older (especially once you hit that 50+ bracket), it's worth comparing your group policy to individual coverage rather than simply letting the costs creep up on you. With the automatic payroll withdrawals, many people do not even notice the increases or compare the costs as they get older.
Additional Considerations
Beyond basic cost/benefit comparisons, there are a few other potential "gotchas" to be aware of when comparing individual coverage to supplemental group life.
Rates are not guaranteed. Even the policy is not guaranteed. Your employer may switch insurance companies or drop coverage altogether. If there are more claims than expected, the insurance company can change the rates at any time.
Coverage may not be convertible. You may not be able to take your policy with you if you change jobs or want to keep your policy in force past your working years. Even if you can convert it, you may be limited to a specific, often very costly policy. While this differs across insurance companies, an individually owned term policy usually is more flexibly convertible to any permanent policy the insurance company offers to new clients, and is usually available during the guaranteed level period of the term policy up to age 70 or 75.
You may want to lock in individual policy rates when you're younger. If you're a healthy 45-year-old (and can substantiate it in a medical exam), you may be able to secure an individual policy with guaranteed level premiums for 10, 15, 20 or even 30 years into the future. This can potentially benefit your wallet and your peace of mind.
Sample Supplemental Group Life verses Individual Term Premiums
Consider the following comparison between individual versus supplemental group term policies.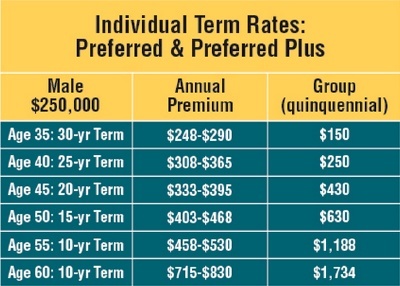 A relatively healthy male age 45 could purchase a 20-year guaranteed level term policy for $333 if he is Preferred Plus, $395 at Preferred; each is more cost effective than the $430 group rate. If he is only Standard (due to certain medications, a few extra pounds or other considerations) an individual policy might be in the range of $609. Then again, the standard rate might be guaranteed for the full 20 years, which may still render it the better, more dependable choice over the long-term.
The Benefit of an Advisor Assist
Bottom line, there is no universally right answer to the question of when, or if, supplemental group life insurance may shift from being a benefit to becoming a burden. A financial advisor can help you weigh the options and arrive at the right answer for you.
---