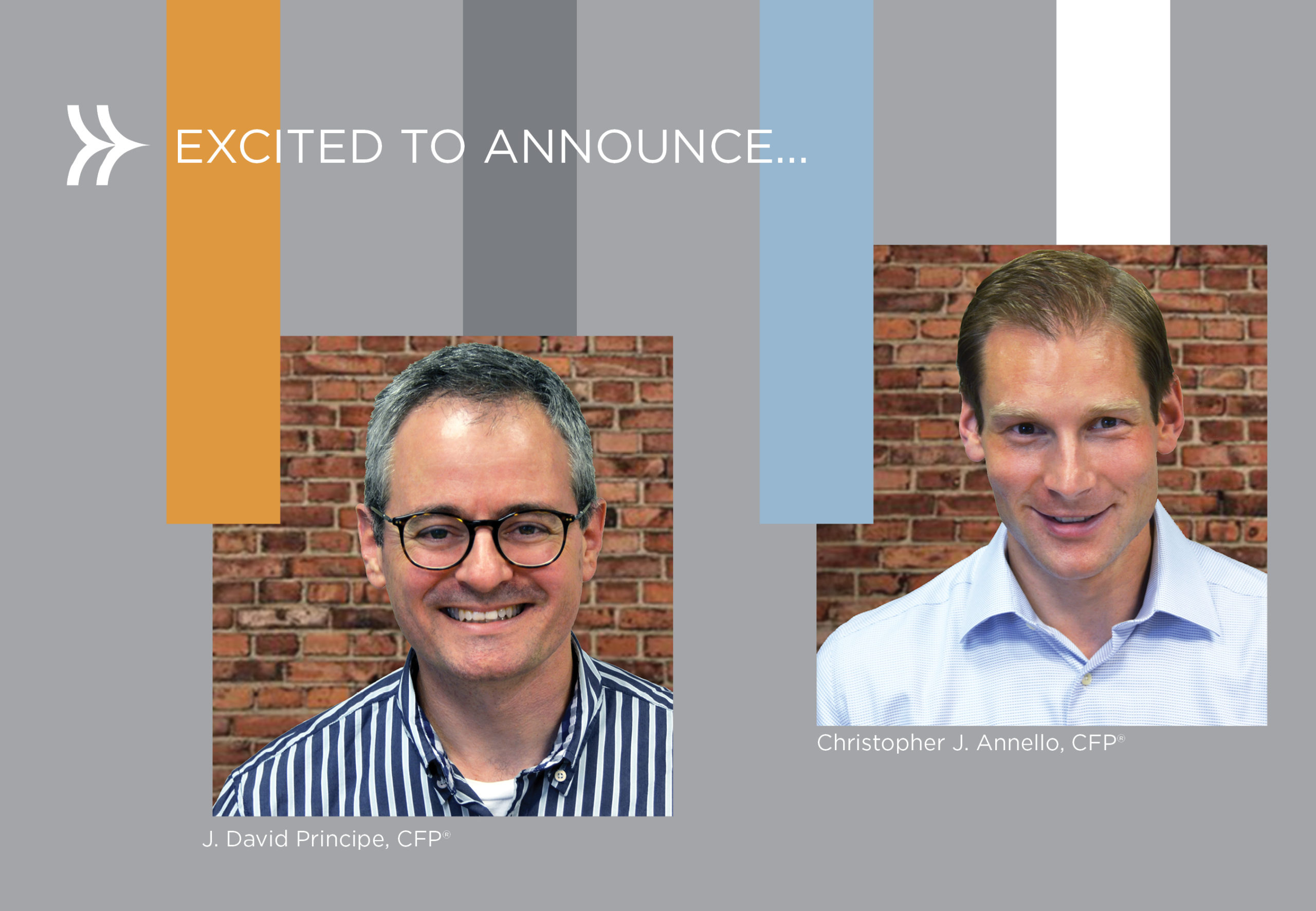 David Principe and Chris Annello Named Partners at SAGEbroadview Wealth Management

The SAGEbroadview you know today is a team of seven with offices in three states, serving over 120 client households, and managing over $289 million in client portfolios.
That level of growth was almost unimaginable back in 2004 when Larry and Sheri met for the first time after sitting next to each other at a financial planning conference. At that time, Larry was working part-time on wealth management activities at DHAS Financial Planning (later renamed to Broadview Advisory Group) in Farmington, CT, while working full-time as a partner in a CPA firm. Sheri was running her two-person SAGE Advisory Group out of her Morristown, NJ home.
That chance meeting launched a 10-year partnership that culminated in 2014 with the merger of our two firms to create SAGEbroadview Wealth Management.
But the story of SAGEbroadview is not ours alone. For more than a decade, Wealth Managers J. David Principe, CFP® and Christopher J. Annello, CFP® have been an integral part of the firm's success. They help us manage and expand our base of client relationships, open new offices, train new associates, structure our operations and technology, and keep us compliant with an ever-changing web of rules and regulations.
Now, as we look toward the next chapter in our growth, we are excited to announce an important step:
Effective July 1, 2021, David and Chris will become partners at SAGEbroadview.
This promotion reflects the great work David and Chris have been doing for years. David has been with us since 2007 and earned his CFP® certification in 2010. He became a Wealth Manager in 2014 and has also been our go-to resource for strengthening our technical capabilities, regulatory compliance, and data and analytical research standards.
Chris joined us in 2011 and earned his CFP® certification in 2014. He became a Wealth Manager in 2016 and three years later opened our Burlington, Massachusetts office. In 2019, Chris began building our Young Professionals program, providing younger individuals with lifelong financial planning and portfolio management. Additionally, Chris is an integral part of the firm's Investment Committee.
While David's and Chris's titles will change, our team's commitment to you remains the same. We look forward to continuing to provide you with Wealth Management Solutions for Every Stage of Life.
Please join us in congratulating David and Chris on this incredible achievement!