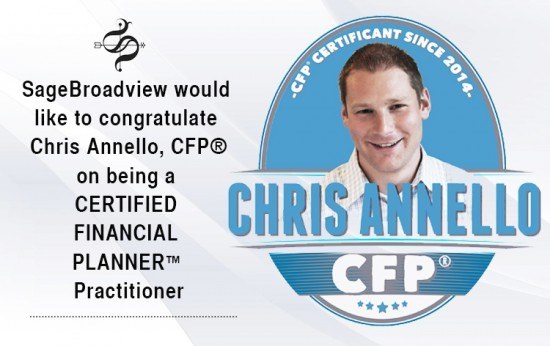 Way to Wrap Up 2014, Chris Annello, CFP®!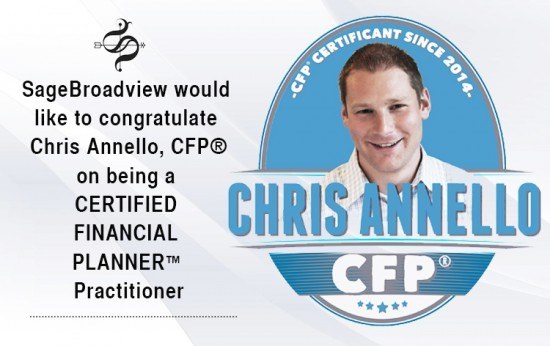 2014 was a pretty exciting year at SAGEbroadview. For starters, it is our first year as a combined SAGEbroadview force. Even as we threw ourselves into combining the energy of two good firms into one, we also took on a variety of personal goals. Most noteworthy was Associate Advisor Chris Annello's achievement of his CERTIFIED FINANCIAL PLANNER™ marks. We couldn't be more excited for Chris, who has now officially followed in the footsteps of his proud pop, Larry Annello, CFP®.
Chris Annello, CFP®: On Being a CERTIFIED FINANCIAL PLANNER™ Professional
We've blogged in the past about the significance of the CFP® certification, and why we feel it benefits investors to work with a CERTIFIED FINANCIAL PLANNER™ practitioner. In Chris's own words:
Embarking on the path to become a CERTIFIED FINANCIAL PLANNER™ professional was a long and demanding journey, and a decision that I took very seriously. One cannot simply "go through the motions" of taking classes and expect to receive a passing grade on the exam. Becoming a CFP® practitioner requires a true commitment to the profession and, ultimately, to the clients we serve.
To be a CFP® professional, I not only had to complete the rigorous certification requirements, but I also am committed to continuing education and a pledge to uphold the CFP Board's strict Code of Ethics. For me, the CFP® designation is an important step toward helping our firm advance our clients' financial goals and build on our mission statement: Appreciate the Wealth of Your Life.
Chris's Journey to CERTIFIED FINANCIAL PLANNER™ Certification
To underscore the effort involved, here is a summary of Chris's educational journey to date:
Bachelor's Degree in Business Administration (Bryant University)
CFP Board approved coursework (Boston University)
Two years of coursework included: General principles of financial planning, Insurance Planning and Risk Management, Investment planning, Income tax planning, Retirement Planning and Employee Benefits and Estate Planning
CFP® exam passed: July 2014
Two-day, 10-hour final exam; 68.1% first-time pass rate. Estimated 200+ hours of long nights and weekends studying in the library! Four days of 10-hour classroom live review
Three years of relevant work experience (equivalent of 6,000+ hours)
Ethics – Background check and pledge to adhere to the high standards of ethics and practice outlined in the CFP Board's Standards of Professional Conduct
CFP® Certification Achieved: December 2014
We expect that this is only the beginning of Chris's career at SAGEbroadview, as he joins our three other CFP® practitioners (Sheri, David and Larry) in our fiduciary oath to our clients and our profession. Congratulations, Chris!
---
Sage Serendipity: Do you Tweet like we Tweet? Follow me at @sage_cupo for ongoing sage ideas, and I'll follow you back for yours.
---