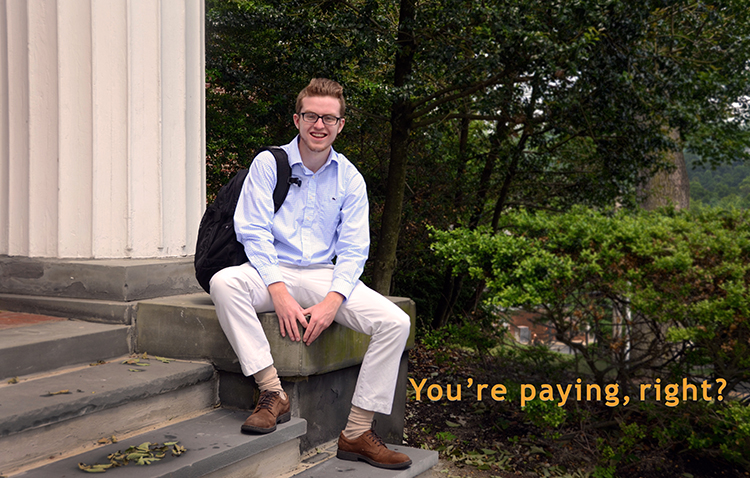 Wait. Mom and Dad aren't paying anymore?

This blog post was authored by Mike Iannetta.  Mike is Sheri's nephew and will be attending Fordham University next year to study finance. He recently completed an internship at SAGEbroadview.

I have always been a spender and the guy who does stupid things (for lack of a better term) that cost money. That big graduation check I just got? Signed the whole thing over to my parents to pay for the fender bender I got in the other day. I'm hungry. Drive home five minutes away to make a sandwich for free, or get a $10 burrito from the Chipotle I'm standing in front of? Too lazy. Chipotle. When I got my first paying job last year I thought everything was going to change. I could see that big number in my bank account adding up at the end of each month and I could start saving up for college. The exact opposite happened. I found plenty of excuses to spend all that extra income. Most of it was spent admittedly on food (my town just got a new Starbucks and Chipotle cut me a break) and renting movies. Then finally it hit me. Mom and Dad won't be paying for all of this in college.

At one point in life, nearly every young adult has that moment. It usually goes something like this:

Parent: Do you want to stop in at that store and get something?

Child: Yeah sure. Picks up expensive piece of clothing.

Child: You're paying, right?

Parent: No.

Child: Oh. Then I'm not going to get it. Puts it back. Reality sets in.

When that moment happened to me a few months ago, it occurred to me that changes were going to have to be made if I wanted to survive my first semester of college. After completing my internship and talking to friends and family who are in college, I learned some important steps I would need to take as a recent high-school graduate seeking financial independence:
Develop a sense of a budget and keep track of your expenses.
Spend your first few weeks of college keeping close track of all your expenses. When you come to a weekly figure of how much you usually spend you need to decide between one of two options: find a source of income or cut back on spending to sustain your bank account.
After talking to many of my friends in college I've learned that it's very easy to get a job on campus. The two most common places: the library and residence halls. You can get paid for sitting at a desk and doing practically nothing.
On the other hand, if you're stretched for time and choose to go the way of cutting your spending, I suggest using one of the following apps on your smartphone to keep track:
Mint (iOS, Android): Connects to student's bank accounts and automatically tracks purchases. Allows you to break down your budget into different categories.
Left to Spend (iOS): Billed as "incredibly simple," you get a spending allowance and subtract from there.
Additional information: College Budgeting Apps
Sit down with your parents before you head off to college and reach an agreement on spending.
Every college student's situation is different. Some are taking out student loans to pay off their tuition while others have their parents paying for their tuition. Whenever possible, all students should sit down with their parents and discuss the more specific costs that occur in college. This usually relates to food, gas money, text books, room and board, laundry, and various other expenses. Parents and their children need to develop a clear plan on what the parents are willing to pay for. If your parents agree to pay for gas and room and board, but you'll be responsible for buying your text books, it helps if you establish that upfront, to prevent further confusion down the road.
Scope out a bank before move-in day.
A nearby ATM is an absolute necessity for every college student. You don't want to be stuck short on cash during your first week of college. Although the majority of recent high-school graduates may already have an account with a bank, there's no guaranteeing that that bank branch is right around the corner from your college dorm. Try to visit campus during the summer and set up an account with the nearest and most convenient bank (and one that makes financial sense). If your campus is hours away or on the other side of the country, try using Google Maps or your college website to find the nearest bank and then set up an account online.
Set up a checking account and get a credit card.
My Aunt Sheri has mentioned this in previous blog posts but it's worth repeating. Maintaining and paying off these accounts are big responsibilities but everyone has to get a checking account and credit card at some point in their lives. The biggest and most important lesson is that the checking account cannot be overdrawn and that credit card balances need to be paid off in full each month. Not adhering to these rules can lead to credit card debt and a bad credit scores that can dog you for decades to come. This is where budgeting your expenses and paying close attention to your account balances is imperative. That may seem scary to some young adults, so many may ask, "Why do I need these?" Simply put, credit cards are helpful for emergencies or small purchases while using your debit card essentially replaces cash, cutting down on your trips to the ATM.
Additional information: 6 Things To Consider Before Choosing a Credit Card
Take advantage of student discounts.
College tuition has risen at an exorbitant rate in the past twenty years. That means that you need to take advantage of every possible chance to save money. Many institutions, organizations, and services offer discounts to college students. The most common example of this is entry to sporting events and other local landmarks. (The Bronx Zoo has a discount for Fordham students every Wednesday.) Another example that has recently taken the spotlight is Amazon's student membership. They currently offer a free six-month trial to students. All you need is your school email. Amazon Student members receive free two-day shipping, exclusive deals and promotions, a $10 referral credit, access to unlimited photo storage, and the ability to stream movies, TV shows, and music. Did I also mention that you can get deals on textbooks? Totally worth it. (But keep a close eye on the purchases as part of your spending budget from above, including the cost of the service once the free trial ends.)
Additional information: Amazon Student
To sum it up and put everything into a different perspective, I would like to quote SAGEbroadview's David Principe. While I was writing this post, I was talking to David on the phone and he made a great point: "if you're running a marathon that's already 26 miles, you don't want to start it from a 10-foot hole in the ground." So circle back to my opening ideas about young-adult spending, and think about that hole whenever you are poised to buy that sandwich instead of making it at home. I promise to (try) to do the same.