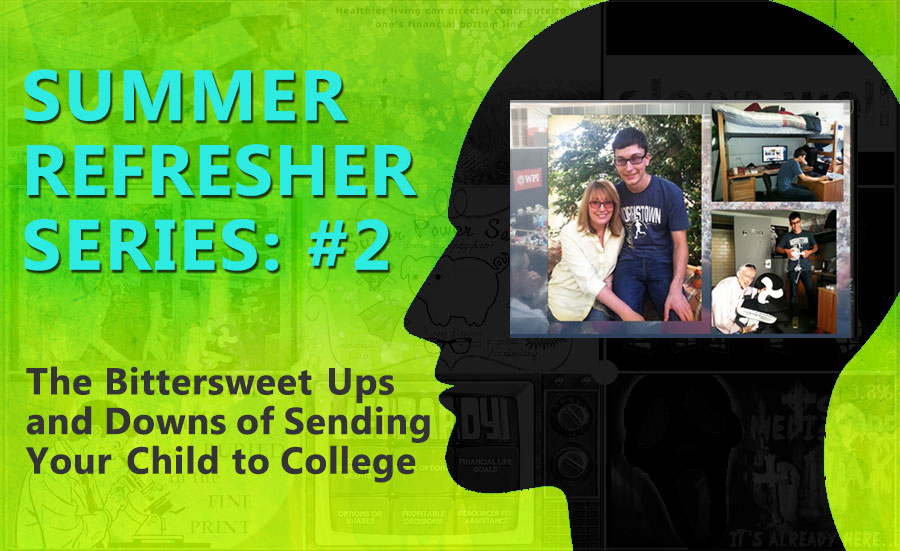 Summer Refresher: The Ups and Downs of Sending Your Child to College

In early June, several of us at SAGEbroadview shared our recent adventures in the college admissions process. In particular, Sheri described some of the college admission challenges  that she, her husband and her youngest son Devon encountered as they sought a good fit for his higher education ambitions.

It would be comforting to say that it will be easier for Sheri this time, since Devon is their second son to head off to college. It would also be untrue. Each departure is heart-wrenching in its own way.

That said, at least she was able to revisit some of the financial and practical insights she wrote about in 2014, when her eldest son Dominic left for college. They are worth revisiting yourself if you or someone you know is bidding farewell to a high-school graduate. No wonder all the article links from the original post still work today. They're all (still) good advice.
---

The Bittersweet Ups and Downs of Sending Your Child to College
Originally posted: September 3, 2014
Can you ever really be prepared for the day you drop your first born off at college? Our day came on Sunday, August 24. We loaded the car until it could hold no more. As we arrived on campus, sorority and fraternity students swooped in and brought all of our son's earthly possessions up four flights of stairs to the cramped quarters he'd be sharing with two other boys. We met his roommates; great kids. We attended a whirlwind of activities that helped keep us from completely bursting into tears, at least until we hugged goodbye.
And then Dave and I returned home – alone – 18 years of planning, complete. But I still find myself misty-eyed whenever I walk into Dominic's bedroom. At least we've got ourselves covered on various practical fronts, as best we can. Here are eight tips that can help reduce some (not all!) of the emotional angst as your child heads off to college. For the emotions that remain, I remind myself that Dominic is ready for this experience, and I know I will be too…eventually.
Open a checking account for everyday spending.
Open a checking account and learn how to:
• Withdraw monies using an ATM card
• Use and protect a debit card
• Deposit money (and understand that depositing money IN is better than taking it out)
• Balance the account (avoid expensive, credit-damaging overdrafts)
Additional information: www.TheMint.org/teens
Obtain a credit card, for the right reasons.
A credit card can be helpful for emergencies or small purchases that arepaid in full each month according to a pre-determined, affordable budget. Beyond its convenience, having a well-managed credit card on these terms helps establish a good credit history. That's all the more reason to NOT use the credit card as a blank check for spending beyond one's means. Interest rates on the loan are dangerously high. Plus, as Mark Twain said, "A banker is a fellow who lends you his umbrella when the sun is shining, but wants it back the minute it begins to rain."
Additional information: How to Choose Your First Credit Card
Know how to separate lights from darks.
While laundry seems like a no-brainer, it's an acquired skill like anything else. Clothes will last longer and cost less if you teach your child how to separate colors that may otherwise turn white to pink. (Pink boxers do not have to be a rite of passage into adulthood!) And you'll want them to remember that they'll no longer be able to rely on you to remove anything from pens to costly iPods out of their pant pockets … before they go through the spin cycle.
Additional information: "How To Do Your Laundry In College," DormCo YouTube
Establish good practices for purchasing textbooks.
There are increasing variations on acquiring textbooks. In addition to the traditional approach of buying the book outright and re-selling it later on, students can often rent their books in hardcopy or digital format, or download them if they are available in open source. There can be advantages and disadvantages to each approach. The cost differentials can be significant, so it's worth taking the time to assess the options available each semester and determining a best course of action.
Additional information: "A Quandary Over Textbooks: Whether to Buy or Rent," The New York Times
Shop for available space … and no more.
As I was reminded first-hand when we left Dominic in his allotted space, dorm rooms are tiny! Other than the technology, his dorm room could have been my own from many moons ago, with just enough headroom in his upper bunk to sit up … if he's careful. It may be tempting to load your child with tangible symbols of your overflowing love, but when it comes to their new living quarters, never has the phrase "less is more" been better applied. The article below provides a handy list of what to bring and what to abandon. A client who went through this rite of passage last year passed down this suggestion, and I will affirm, that a small tool kit will undoubtedly come in handy; there's no good substitute when a screwdriver is required.
Additional information: "Top 12 Dorm Shopping Mistakes," The Huffington Post
Don't Forget that Healthcare Power of Attorney and related documents.
If you've not yet prepared some basic estate-planning documents for your young adults, we urge you to bump this item to the top of your priority list without delay. If you don't have healthcare power of attorney once your "baby" reaches the age of majority (typically, age 18), you might be left powerless to have a detailed conversation about his or her healthcare, should the unexpected occur. As we covered in a past blog post, with Dominic's ongoing interest in rugby, this was a big-ticket item in our own estate planning.
Additional information: "Basic Estate-Planning Documents for Adult Children"
Cut costs on car insurance.
Here's another subject we've covered in a previous post by guest author Rocco Esposito of Esposito Insurance Group: Now that your child is off to college, you may be able to reduce your auto insurance rates. Another post at Bankrate.com explains further: "Congratulations if your college student left the car at home. You might have some savings coming to you. But to get it, your student's school needs to be at least 100 miles away. If you meet this criterion, give your insurer a call. You'll generally get about 10 percent off your premium."
Additional information: "Managing Insurance Costs When Your Teenager Drives," by Rocco Esposito, and "Your child left for college? Take Insurance Tips 101," Bankrate.com
Don't fight the wave of emotions.
To respond to our opening question, at least based on our own experience, the answer is: No way. You can plan and plan, but you'll never really be ready to send your children to college. As expressed in this poignant piece at Grown & Flown, "In the end, our job as parents is to leave them with both the right size sheets and a sense that they are well equipped for this next, independent stage of life. The challenges are no greater or lesser than when they arrived eighteen years ago."
Stay tuned as I learn more on this grand adventure of parenting a college student.
---
SAGE Serendipity:  It's been a difficult summer. Every day there seems to be something terrible in the news. Let's divert our attention for a moment to Carpool Karaoke.  Timeout.com put up a list of  The 10 Best Carpool Karaoke Videos.  Take some time for yourself before turning your attention back to the news.
---