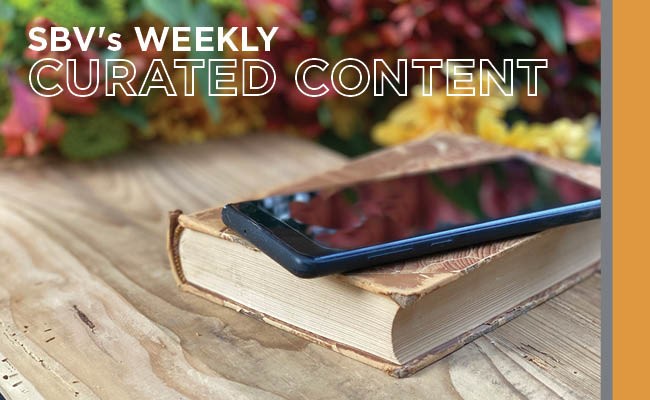 SBV Curated Content | A Weekly Update of Enlightening & Intriguing Information | November 11, 2020

Happy Veterans Day to all those who have served in defense of our democracy. We honor you, and the family and loved ones who supported your service.
Veterans Day honors all of those who have served the country in war or peace — dead or alive — although it's largely intended to thank living veterans for their sacrifices. It was originally called Armistice Day, commemorating the end of World War I.
5 Facts to Know About Veterans Day (US Dept. of Defense)
COVID-19 & Your Health
Biden unveils Transition COVID-19 Advisory Board to 'help shape' approach to coronavirus pandemic (Fox News). The board members, a group of doctors and scientists, are listed here.
Holiday Travel and Safety: 5 Things We Know. "During the current pandemic surge, how risky is it to travel during what is normally one of the busiest seasons? And how is the industry making it safer? Here's what you need to know." (The New York Times)
Face masks don't hinder breathing during exercise, study finds (Science Daily)
Doctors begin to crack Covid's mysterious long-term effects. Severe fatigue, memory lapses, hear problems affect patients who weren't that badly hit initially. (The Wall Street Journal)
Your Finances & other Wealth Management links
The Affordable Care Act Faces Another Supreme Court Test. (The New York Times)
At stake are health insurance for millions of people, and protections for pre-existing conditions for millions more. This law is now woven into the fabric of our current healthcare system more than you might realize.
Some key features of the ACA are noted below:
Businesses, Stock Markets & the Economy
The Biden Presidency & the Economy – What you need to know now (Forbes)
Election 2020: Results and consequences (DR. DAVID KELLY, MEERA PANDIT, J.P. MORGAN)
The Environment & ESG (Environmental, Social & Governance) Investing
Climate Disruption is Now Locked In. The Next Moves Will Be Critical. (The New York Times)
Your Physical & Mental Well-being
Kamala Harris, the California senator, is now Vice President-elect of the United States, the first woman, first Black woman, and first Indian-American woman to ever serve in the nation's second-highest office. Regardless of your politics, it's a historic moment for the United States, and one that has been a long time coming.
The blog FitFortyForever.com has a "Peloton hack," showing you how to use the Peloton app with a more-affordable bike.
Jane Brody has a timely column on the double-whammy of seasonal affective disorder during a pandemic.
Dr. Perri Klass writes about the benefits of knitting for calm and connection.
Today's WFH office
Sheri's Karl with those 'summer weather in November' vibes.