SBV Curated Content | A Weekly Update of Enlightening & Intriguing Information | April 28, 2021

Businesses, Stock Markets & the Economy
Dimensional at 40: Timeless Lessons from My Decades in Finance (By David Booth, Executive Chairman and Founder of Dimensional)
"…I believe people keep falling into the same old traps. They might chase the latest fads and keep picking stocks. (Just in the past year, we've seen frenzies surrounding FAANG stocks, Tesla, and GameStop.) They might try to time markets. Too many people may have sold at the bottom of the financial crisis in 2009 and at the start of the pandemic in 2020. These investors can hurt their chances of long-term success while adding to their anxiety. Investing doesn't have to be that way.
We need to change the conversation so that people can invest better—and live better. As we celebrate our 40th anniversary as a firm, I've reflected on what I've learned over the years that I wish every investor could know."
What Happens After the Stock Market is Up Big? (Ben Carlson, CFA)
"It seems like there is always a good reason to worry about the stock market. When stocks are falling it feels like they can always fall further. And when stocks rise it feels like the peak is always right around the corner.
But what about when stocks rise by A LOT? That's the situation we're looking at right now with a massive rise from the bottom last March.
In a recent piece at Fortune I looked at the history of stock market moves after such a huge gain."
Your Finances & other Wealth Management links
[HEADS UP] Recent Phishing Attacks Using PDF Files Have Skyrocketed More Than 1,000% (KnowBe4)
What Not to Do When Spring Cleaning Your Finances (nerdwallet)
12 Personal Finance Numbers You Should Know (The Long Game)
The Environment & ESG (Environmental, Social & Governance) Investing
A new way of putting private money where the forests are. "Western investors join governments to come up with a way to pay countries to protect forests." (The Washington Post)
"The plan so far includes commitments from household names such as Amazon, Airbnb, Bayer, Boston Consulting Group, GlaxoSmithKline, McKinsey, Nestlé, Salesforce and Unilever. Those nine big companies would work with the United States, Norway and Britain to invest at least $1 billion in the plan before year end and substantially more in following years."
Humanity's greatest ally against climate change is the Earth itself. "Ecosystems can draw down carbon and buffer us from the worst effects of climate change — but only if we protect them." (The Washington Post)
How to kick your paper towel habit: It's easier than you think (The Washington Post)
How to start composting at home, even if you don't have a yard (The Washington Post)
How to make your grocery shopping more eco-friendly (The Washington Post)
COVID-19 & Your Health
Do We Still Need to Keep Wearing Masks Outdoors? "Science shows that the risk of viral transmission outside is very low. The "two-out-of-three rule" can help you decide whether to mask up." (The New York Times)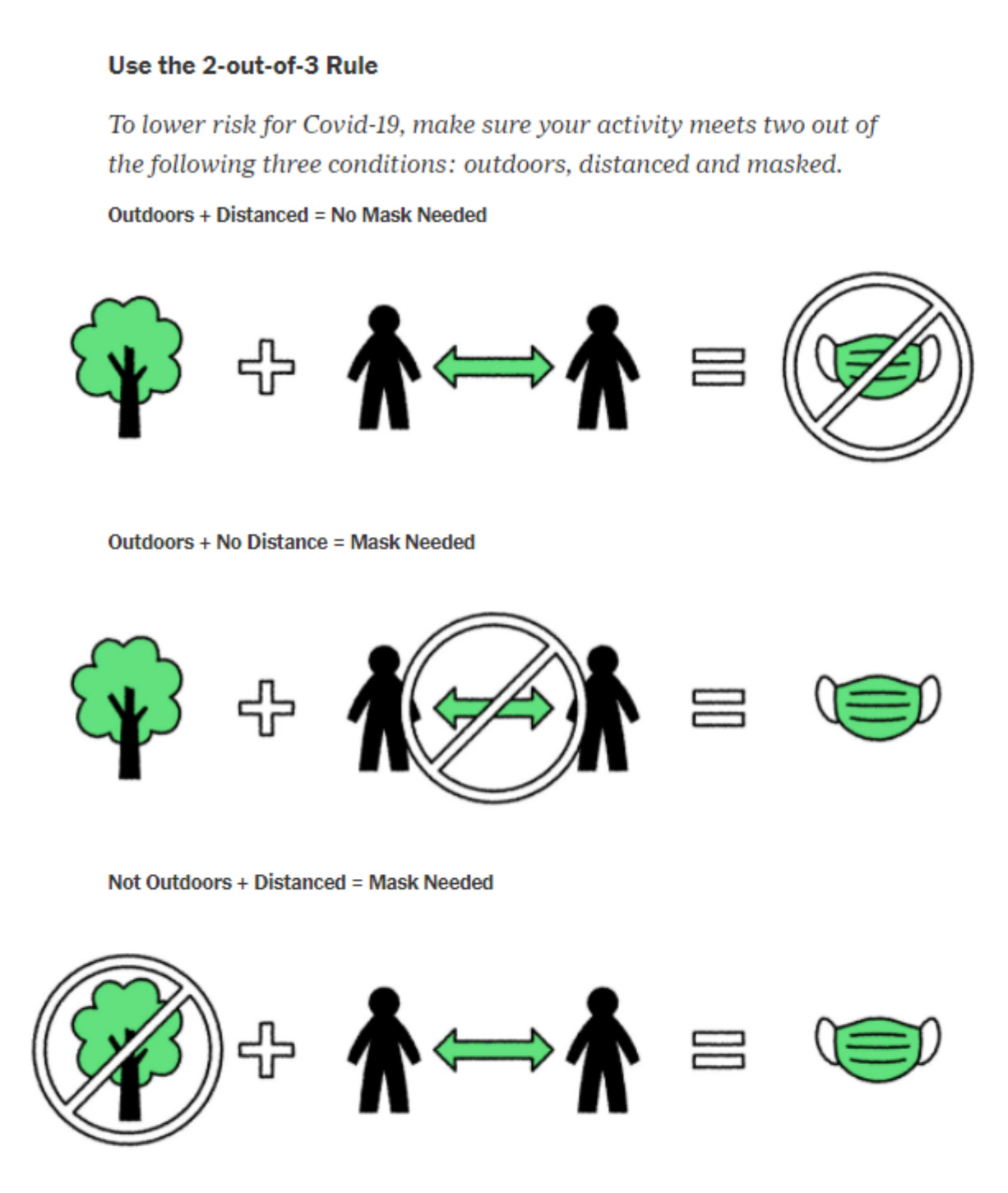 Source: The New York Times
What Do You Do When the Kids Are Still Unvaccinated? "There will be more than one reasonable way to approach the risks of family activities." (The New York Times)
Your Physical & Mental Well-being
How to Buy Happiness (The Atlantic)
There's a Name for the Blah You're Feeling: It's Called Languishing. "The neglected middle child of mental health can dull your motivation and focus — and it may be the dominant emotion of 2021." (The New York Times)
This Week's Serendipity (a two-fer!)
Caracas, Venezuela:

Gustavo Dudamel conducting the Simon Bolivar Youth Symphony Orchestra.

Leonard Bernstein's 'Mambo' from 'West Side Story'.

Magnificent…pic.twitter.com/DL13NN8fno

— Rex Chapman?? (@RexChapman) April 17, 2021