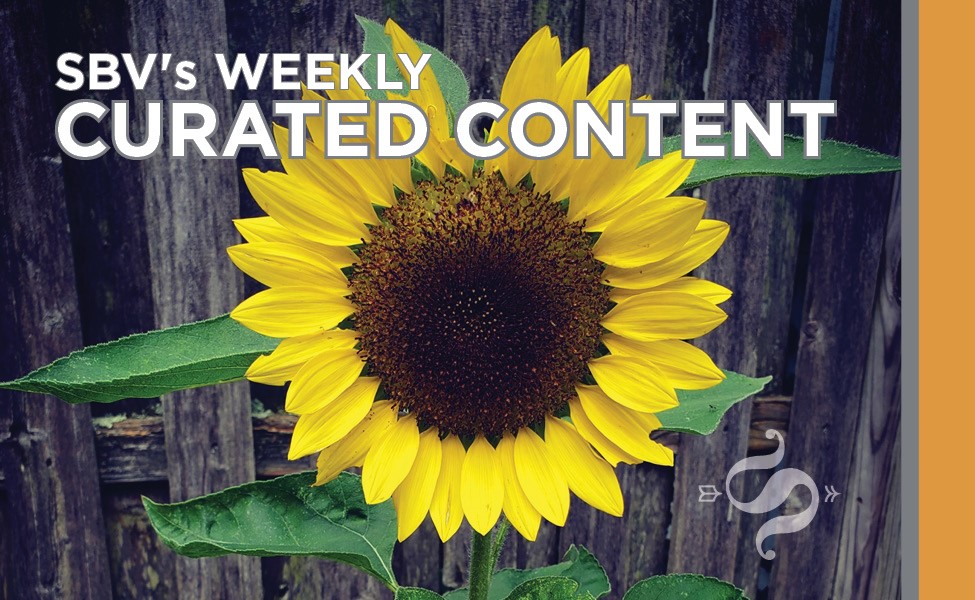 SBV Curated Content | A Weekly Update of Enlightening & Intriguing Information | April 27, 2022
Businesses, Stock Markets & the Economy
Today we share excerpts from Dimensional's CLIENT QUESTION OF THE WEEK:  Why have my fixed income funds lost money?
"Bond returns in the first quarter of this year were some of the worst in decades.  Many fixed income funds lost money, which can naturally cause anxiety amongst investors.
The bond market incorporates new information quickly. Broadly, the market has likely adjusted expectations for interest rates and inflation.
The Effective Federal Funds rate has increased year to date1; buyers and sellers have incorporated that information, as well as their expectations about future changes in interest rates, into prices.
Typically, higher future inflation and interest rates make current bonds less attractive. This is because most bonds pay a fixed interest rate (or coupon), and if interest rates for newer bonds rise, investors will no longer prefer the lower interest rates provided by older bonds.
Market participants can then demand a higher yield of existing bonds by driving the price of the bonds down, resulting in negative performance for existing bond holders.
Don't focus on getting bogged down in the math. Just remember that when the yield of a bond increases, its price will decrease. This is what we saw in Q1.
There is good news! Rates are more attractive now, which can be positive for future returns and reinvestment. Moving from a low-rate environment to a high one can be painful, but we've seen it benefit investors in the long run. 
Negative performance of fixed income is frustrating, but not unprecedented. Short-term negative returns occur more frequently than you may realize. However, through a longer-term perspective, down periods don't seem as daunting.
Over recent decades, we've seen positive performance in periods of rising Federal Funds rate. The visual below, which includes the most notable periods of Effective Federal Funds rate increases, illustrates that periods of rising rates do not necessarily result in ongoing negative returns."
Exhibit 1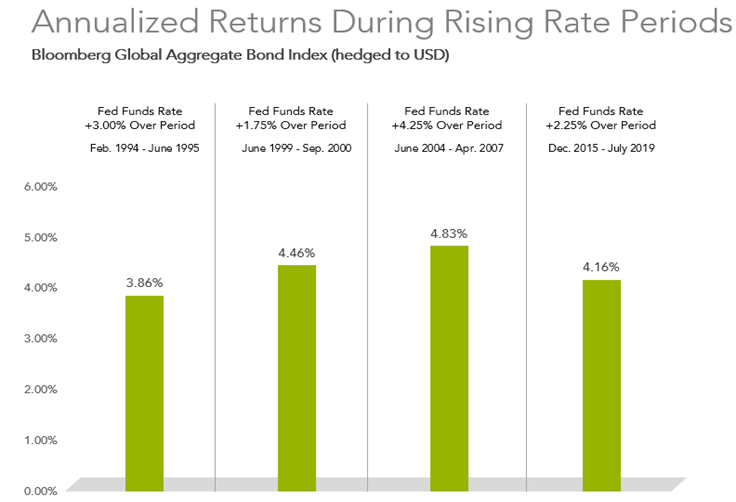 Source: Dimensional Fund Advisors; Bloomberg data provided by Bloomberg.
Past performance is not a guarantee of future results. Indices are not available for direct investment; therefore, their
performance does not reflect the expenses associated with the management of an actual portfolio. Performance for
periods greater than one year are annualized unless specified otherwise.
All rights reserved.
1 Source: US Treasury data provided by FRED, Federal Reserve Bank of St. Louis. Bloomberg data provided by Bloomberg. All rights reserved.