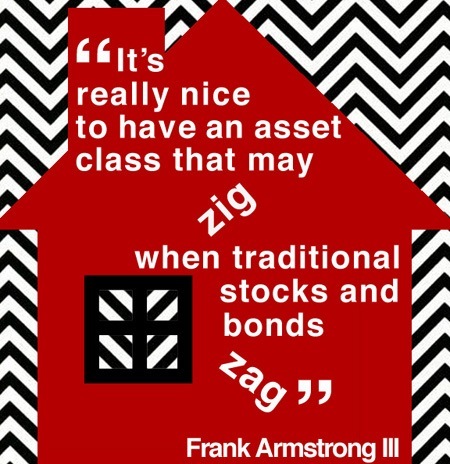 Real Estate to Have and to Hold

Depending on your unique risk tolerances and financial goals, there are times it can make sense to allocate a percentage of your portfolio to real estate investments. But there's real estate, and then there's real estate. Do the homes you live in count as investments? Let's take a closer look.

The Role of Real Estate in Your Portfolio
Why would you invest in real estate to begin with? As Forbes contributor Frank Armstrong III describes in his "Real Estate and REITs as an Investment," article: "It's really nice … to have an asset class that may zig when traditional stocks and bonds zag. An asset with low correlation to others in your holdings can both reduce risk at the portfolio level and increase returns."

In other words, investing in real estate can help smooth out the depth of those disturbing dips in your overall portfolio performance, and potentially even contribute to total returns. BUT (and this is critical), it's important to capture these potential benefits in the form of a "diversified, liquid, low-cost investment product" (to quote Rick Ferri from his blog post, "REITs and Your Portfolio)." Otherwise, the costs and idiosyncratic disadvantages of purchasing a piece of property may exceed the desired benefits. It's not much of an "investment," for example, if its basement gets flooded.

The Right Tool for the Job
In contrast to one or a few concentrated pieces of property that you plan to call home, a well-constructed Real Estate Investment Trust (REIT) – or a "fund of funds" mutual fund that invests in multiple REIT funds – can offer the following investment attributes:
Diversification – Exposure to publicly traded real estate all over the world, invested in industrial, office, retail and other specialized real estate, along with modest allocations to residential real estate (usually apartments and multi-family commercial buildings).
Liquidity – If liquidity is needed, you want to be able to sell your real estate investment in part or whole and likely have the proceeds in hand within a day or few. Your homes? Not nearly as easily done.
Tax-efficiency – When possible and appropriate for the rest of your investment circumstances, it's desirable to place your real estate investments within your tax-sheltered accounts, as they tend to be relatively tax-inefficient.
Safe at Home
In short, we suggest separating your real estate investment allocations from the homes you've purchased as residences. While they both may be "real estate," they serve different purposes in your life. And again, it's important to seek well-constructed investments that fit the description Ferri suggests above: diversified, liquid, low-cost and, we would add, transparently reported.
Finally, because not all REITs or REIT funds are built alike, we would suggest the counsel of an informed advisor to help you identify your need for the investment to begin with, as well as to define and identify "well-constructed."
We agree with Larry Swedroe, who advises, "Although a home is clearly an asset that belongs on your balance sheet, along with any mortgage, it should be viewed as a consumption item, rather than an investment. There are things you can do with investments – like rebalance and tax-manage (or "harvest") losses – that you simply can't do with a home."
That said, it's hard to hold a family reunion inside a mutual fund. It's usually good to have both, with both in their proper roles.
---
Sage Serendipity: Are you a purist or more warm-hearted? Apparently your coffee preferences will give you away: What Your Coffee Says About Your Personality. I wonder what this means for a tea-drinker?
---