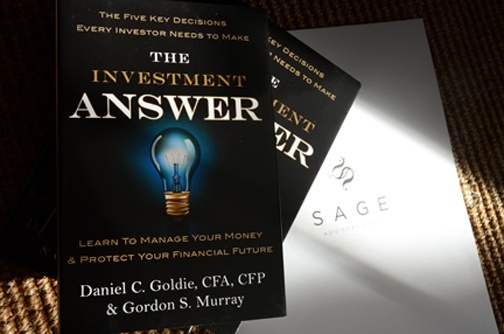 Enjoy a Summer Read: The Investment Answer

In my June 19th blog post, "An Admirable Addiction," I described the benefits of being a devoted reader. While I shamelessly let stacks of books vie for my attention all at once, you may prefer to save yourself for one good read at a time. For you, I've got just the book for your summer reading: The Investment Answer by Dan Goldie and Gordon Murray.

We've been sharing The Investment Answer with clients, friends and family ever since it was released in 2011. There are two things that make it a stand-out in my library:
The book itself is potent and powerful … and short, making it the perfect summer read.
The remarkable story behind the book is as interesting and telling as what it contains.
All the Answers
In 80, action-packed pages, The Investment Answer offers an elegant introduction to the tenets of sensible money management – the same guides we use in constructing our clients' portfolios. Gordon and Murray describe how to have a successful investment experience by addressing five key decisions:
The Do-It-Yourself Decision: Can you do it yourself or should you seek professional investment advice?
The Asset Allocation Decision: What are the main ingredients in your portfolio?
The Diversification Decision: What are the correct proportions for each ingredient?
The Active versus Passive Decision: How should you go about participating in the market's activities? (Are you trying to "beat" the market or capture available returns?)
The Rebalancing Decision: How will you manage your portfolio over the long-term?
The authors then provide a bread-crumb trail of clarity for making each decision, backed by a digestible summary of the volume of guiding evidence. Cleanly, quietly, the authors take on the Wall Street status quo. It's a system most of us sense is stacked against us, but we can never quite put our finger on how. Goldie and Murray enlighten us on why the challenge is long overdue and offer an "ah-ha!" alternative.
The Story Behind the Story
While The Investment Answer can readily stand on its own as a fine read, it's even more remarkable once you know the story behind its creation. For Murray, the book was published posthumously; he and Goldie collaborated on it after he had been diagnosed with terminal brain cancer, with six months to live. For Murray, the book was, quite literally "A dying banker's last instructions" as described in The New York Times.
Having spent a quarter-century in the banker/broker world at household names such as Goldman Sachs and Lehman Brothers, Murray had seen the worst of Wall Street up close and personal, and had taken it upon himself to seek a better way for his own wealth when he retired. As he described his banking career in The New York Times column: "[Early on,] our word was our bond, and good ethics was good business … That got replaced by liar loans and 'I hope I'm gone by the time this thing blows up.'"
Murray also felt driven to share what he'd learned with others, particularly after his diagnosis limited the time he had available to do so. Together with his friend and personal investment advisor Goldie, he set out to beat his own personal deadline. As Goldie describes in this SensibleInvesting.TV interview, "[Murray] actually held a hardcover copy in his hand before he passed away, so he saw most of it, and he … knew that he had accomplished what he had set out to accomplish."
So read The Investment Answer for what it's worth: its financial message as well as the lesson it teaches us all on making the most of the one life we've got to live. Live it well.
---