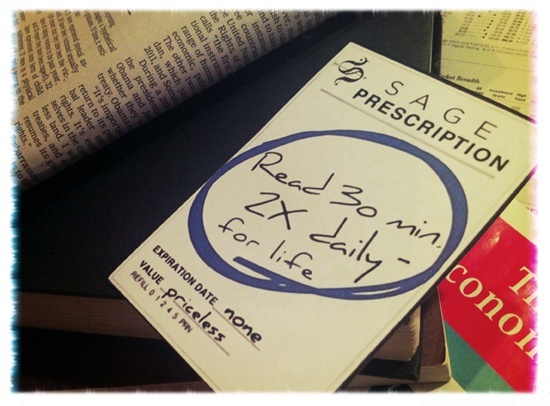 An Admirable Addiction
Warren Buffett has admitted to it, as has his business partner Charlie Munger. Others reportedly under the influence include presidents Obama and Clinton; Madonna; Jay Leno and Conan O'Brien; and, of course, Oprah.[1] I too am hooked. We can't help ourselves. We can't stop reading.
Thankfully, there is plenty of evidence that the more you read, the better you get. (If only chocolate worked that way too!) In his Farnam Street blog post, "The Buffett Formula — How To Get Smarter," Shane Parrish introduced what he describes as "The Buffett Formula" to getting smarter. Its first and most significant ingredient: "Read. A lot." Buffett professes spending up to 80 percent of his working day reading or thinking.
Reading is a key component to our SAGE view of Financial Life Planning. But there are important ways that Buffett, Munger and others like them transform their reading from tasty entertainment to the substance that strengthens the body, nourishes the soul and contributes to the good habits that lead to financial success. Here are three ideas on how they go about it:
1. Pay Yourself First
If you've knocked around the financial world much, you may be familiar with the concept of "pay yourself first," introduced by George Clason in his 1920s classic, "The Richest Man in Babylon." Clason describes: "I found the road to wealth when I decided that a part of what I earned was mine to keep. … If you did keep for yourself one-tenth of all you earn, how much would you have in ten years?"
Fast forward to today, to Buffett's similarly minded comments about Charlie Munger in his authorized autobiography, Snowball (also quoted in Parrish's blog):
Charlie, as a very young lawyer, was probably getting $20 an hour. He thought to himself, 'Who's my most valuable client?' And he decided it was himself. So he decided to sell himself an hour each day.
If you feel you don't have time to read, think of it as an investment paid to your most important "client." You. We don't typically predict future returns, but on this we're willing to wager that your time spent reading will be a more than a safe bet on future expected returns.
2. Beg to Differ … With Yourself
In a recent Wall Street Journal article "Lesson from Buffett: Doubt Yourself," Intelligent Investor columnist Jason Zweig observed Buffett's uncommon openness to thoughtful disagreement. He cited Buffett's unscripted Q&A with critic and hedge fund manager Doug Kass at Berkshire Hathaway's 2013 annual shareholders meeting. (Kass has been shorting Berkshire's stock, i.e., placing big bets against it.) Zweig's comments are worth savoring for the writing alone, not to mention the point made:
Carp, if you will, that it didn't take much bravery for Mr. Buffett to give air time to one skeptic among the more than 35,000 worshippers who would trample their grandmothers to kiss Mr. Buffett's feet if he took his socks off. … Then ask yourself: When is the last time the management of a major U.S. company sought out unrestricted criticism from someone betting against the stock?"
Zweig went on to quote Buffett explaining his seeming eagerness to take on opposing viewpoints: "Man's natural inclination is to cling to his beliefs, particularly if they are reinforced by recent experience."
It strikes me that among the best ways to thoughtfully challenge your own beliefs in a more comfortable forum, slightly less glaring than Berkshire's annual meeting is … you guessed it. Read that which is well-written, whether or not it reflects your own viewpoints.
3. Repeat After Me
Another tip I found of interest in Parrish's column reflects my own opinion that quality reading becomes a dialogue between you and the author, in which both are equally engaged. In Parrish's words: "You need to be critical and always thinking. You need to do the mental work required to hold an opinion." To test how well you're doing on that, he suggests sharing your interpretation of it with somebody else:
Can you explain what you know to someone else? Try it. Pick an idea you think you have a grasp of and write it out on a sheet of paper as if you were explaining it to someone else.
What an awesome idea. In fact, I'll stop writing now so you can go give that a try.
Happy summer reading to you!