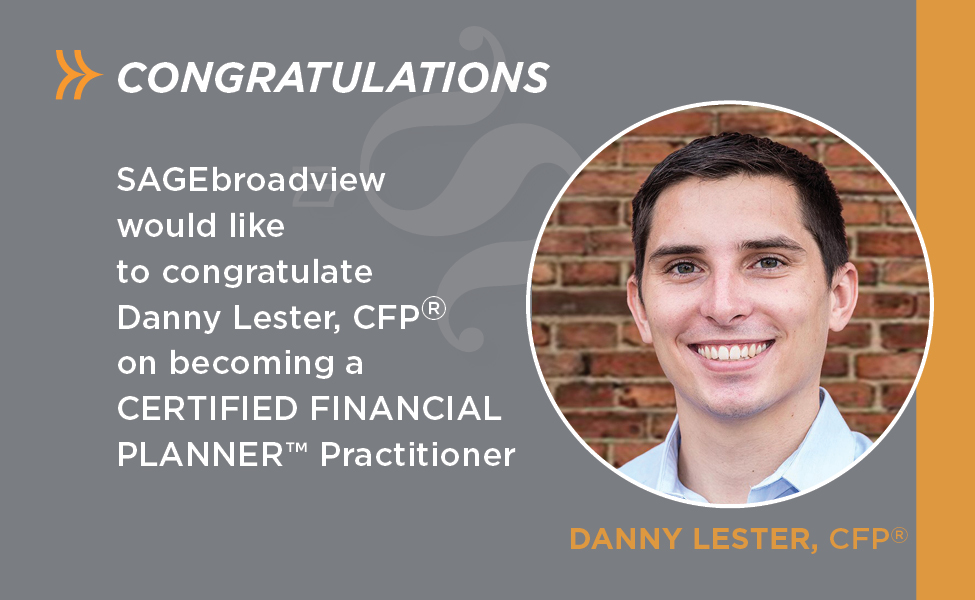 Congratulations Danny!
SAGEbroadview would like you to join us in celebrating a noteworthy achievement by our Associate Advisor, Danny Lester – his earning of the CERTIFIED FINANCIAL PLANNER™ marks. We are so excited for what lies ahead for Danny, and very proud of his accomplishments.
Danny Lester, CFP® on becoming a CERTIFIED FINANCIAL PLANNER™ Professional:
In 2017 I was fortunate to be set on the path to CFP® certification by one of my college professors. Now, almost six years later, I have fulfilled the requirements, and am now proudly a CERTIFIED FINANCIAL PLANNERTM professional. I am also grateful to be a part of a team who has supported me throughout the process and who truly believe in the value of holistic financial planning and acting as fiduciaries for each client we serve.
The knowledge I gained during the rigorous certification process will be further enhanced by the continuing education I've committed to, and by gaining additional experience working with our clients. For me, the CFP® certification is an important step toward helping our firm advance our clients' financial goals and build on our mission statement: Appreciate the Wealth of Your Life.
Danny's Journey to CERTIFIED FINANCIAL PLANNERTM Certification:
Bachelor's Degree in Finance (Bentley University)
Master's Degree in Taxation (Bentley University)

Bentley Coursework included: General principles of financial planning, Insurance Planning and Risk Management, Investment planning, Income tax planning, Retirement Planning and Employee Benefits and Estate Planning

CFP® Board Approved Capstone Course (Boston University)
CFP® Exam Passed: November 2020

Nothing like a testing center system glitch that delays the start of the exam by more than two hours to calm the nerves.
2-part, 6-hour exam with a 64% first-time pass rate

Three years of relevant work experience (equivalent of 6,000+ hours)
Ethics – background check and pledge to adhere to the high standards of ethics and practice outlined in the CFP® Board's Code of Ethics and Standards of Conduct
CFP® Certification Achieved: January 2023