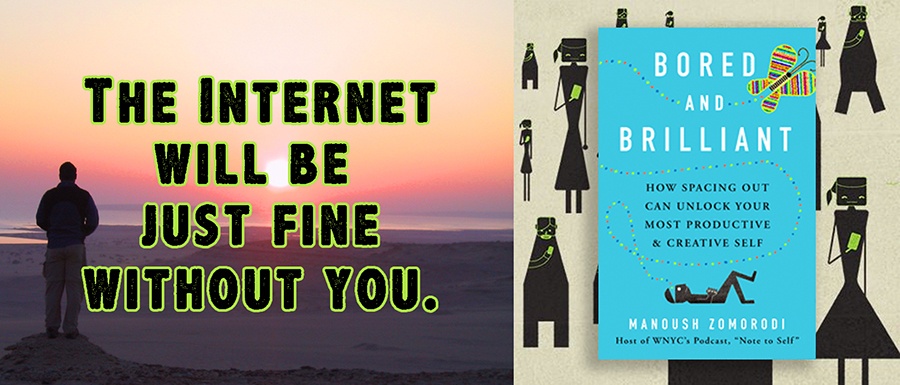 Bored… and Brilliant? A Book That Challenges You to Disconnect from Your Phone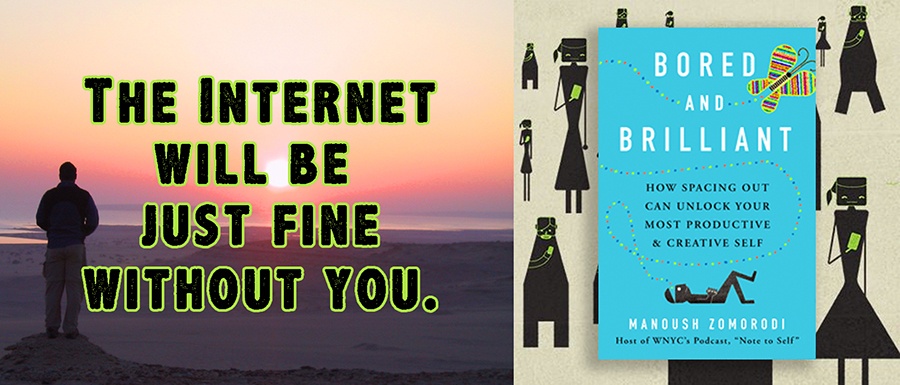 Do you have any idea how often you pick up your smartphone throughout the day (and night)? Do you feel addicted to your phone? Are you losing your ability to focus when you read and when you work? If so, then I have just the book for you — "Bored and Brilliant: How Spacing Out Can Unlock Your Most Productive and Creative Self", written by Manoush Zomorodi, the host of WNYC's "Note to Self", the tech show about being human. She writes:
"…our attention is in hot demand. With the advent of smartphones and tablets, mobile consumers now spend an average of two hours and fifty-seven minutes each day on mobile devices and about eleven hours a day in front of a screen. Although we don't know if all this screen time will have longer-term harmful effects, we know technology is changing us (and it's unclear whether it's for the better)."
Manoush wondered what happens to our creativity, emotional health, and personal growth when we keep ourselves constantly busy instead of making space for "mind-wandering" time.
"When we let ourselves space out and our minds wander, we do our most original thinking and problem-solving; without distraction, your mind can go to some interesting and unexpected places."
So Manoush and her team created the Bored and Brilliant Project to investigate. It is a week of challenges, including tracking your digital habits, having a photo-free day, deleting the one app you feel you cannot live without and taking a "fakecation". This project, and her book, provide a guide to teaching digital self-regulation and living a more conscious online existence.
After finishing the book, I started the challenge by installing the Break Free app on my Android phone; Apple users can download the Moment app. This app will track how often I check and then use my phone, so I can see how addicted I am — it will also warn me if I have used my phone for longer than my pre-designated allotment of time. Each time I unlock my phone I am greeted with "Do you really need to check your phone?" More often than not, if I am honest with myself, the answer is no. At the end of each day I am alarmed with how much time I spent on my phone.
Another interesting challenge was to keep my devices out of reach while in motion (walking, driving, riding as a passenger in a car or on the train). I also decided to turn off the radio while driving. At first, I found the quietness a bit off-putting but I quickly relaxed into it. I found I was more observant of my surroundings, seeing things I had not noticed before on my daily commute. I even had a couple of "a ha" moments with some tasks where I had been struggling.
One intimidating challenge was to delete the app that is your biggest time waster, the one you are most addicted to. (Did you notice only tech companies and drug dealers describe their customers as 'users'?) Long ago I forced myself to remove Solitaire and Candy Crush from my phone; that had already reclaimed a lot of my free time. So for this challenge I moved my Twitter, Facebook and Instagram apps off my Home page so they wouldn't be staring me in my face when I logged on to my phone. I wondered if taking that extra second of effort to swipe to another screen before opening them would remind me to ask myself "Do you really need to be on this app?" I would say this experiment met with mixed success. It's easy for me to stay off Facebook and Instagram but I get a lot of my news from my Twitter feed.
Ultimately, I found this book and set of challenges to be extraordinarily helpful. I feel I am now more intentional when I use my phone. I'm less apt to pick up my phone when I have some free time and more comfortable with just letting my mind wander. Big bonus: I have more time for "slow-reading" and my ability to focus is improving. If you read this book and try the challenges, let me know what you learned about your relationship with your phone.
Remember my friends, "The Internet will be just fine without you."
More interesting tidbits from the book:
And every time we respond to a ping or bubble, it takes twenty-three minutes and fifteen seconds, on average, to get back to what we were originally working on, according to Gloria Mark's research! … The real casualty of all this distraction is the "deep work." (page 113)
By means of these experiments, Dr. Sandi Mann proved her point: People who are bored think more creatively than those who aren't. (page 19)
"We've had moral panics about new technologies for centuries…" ~Keith Hampton, Professor at Rutgers School of Communication and Information (page 38)
Taking notes by hand is better for information retention (page 49)
Basically, we are losing our ability to slow-read by giving up the practice of it. ~Maryanne Wolf, director of the Center for Reading and Language Research at Tufts University (page 47)
An IBM survey of fifteen hundred CEOs from more than thirty-three industries across sixty countries found that the single most important quality in "successfully navigating an increasingly complex world" is creativity. (page 116)
SAGE Serendipity: The latest Ken Burns documentary, The Vietnam War, co-directed with Lynn Novick, is well into it's broadcast airing on PBS. Get a glimpse of what it took to film the 18-hour show in this fascinating Washington Post article. Dave and I have watched three episodes so far and have found it in turns absolutely riveting, eye-opening, and heart wrenching.
---