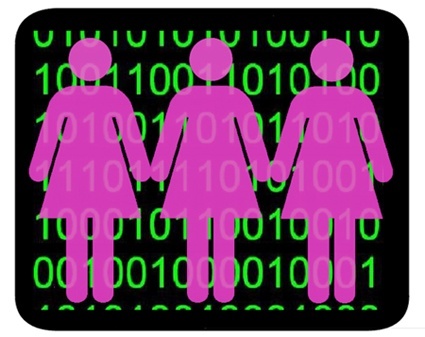 A Financial Woman's Place Is Online

Even though we women are the majority of the U.S. population[1], we are the minority within my profession, with fewer than a quarter of us among the nearly 69,000 Certified Financial Planner™ professionals.[2] Like most of my colleagues (regardless of gender!), I chose my career based on my interests, experience and training, plus my passion for helping others. For these same reasons, I love to participate among a variety of online educational forums. Given my vantage point, I especially enjoy hearing from and helping women who are seeking to make SAGE decisions about their financial life planning. Here are a few of my favorite online hangouts for woman-to-woman mentoring. I hope to see you there.
85 Broads – Recently acquired by Sallie Krawcheck (former president of the Global Wealth & Investment Management division of Bank of America), 85 Broads took root on Wall Street – at Goldman Sachs' 85 Broad Street, New York headquarters to be precise. At the time, it represented a small group of women investment bankers who wanted to help each other grow within the hardscrabble soil found there. Grow they did, into a global network of more than 30,000 women, including me.
Announcing her investment in 85 Broads in May 2013, Sallie wrote:
"Networking has been shown to increase professional success: research shows that one of the 'unwritten rules' of advancement in business has been a strong network….both inside one's workplace and, very powerfully, outside as well. Don't think of these as tired 'support groups' they are instead platforms for the exchange and promotion of information and ideas, accelerating one's acquisition of skills and knowledge. Doing so outside of one's company exposes one to different thinking, which can be important in avoiding 'group think.' These benefits hold for individuals in a more traditional corporate setting, while entrepreneurs with larger and more diverse networks have been shown to grow their businesses more quickly.

The next step is to move from advocacy to real investments, just as smart companies – and smart investors – are increasingly recognizing. I am investing in 85 Broads because investing in women is smart business. And women investing in themselves and in others, as they do through the network, is even smarter business."
We share some of our SAGE postings on 85 Broads and are pleased that our "An Admirable Addiction" posting has been especially well-received by the 85 Broads community.
Project Eve – "A global community of women helping women," Project Eve was co-founded by Meridith Dennes and Kim Oksenberg, two women who found themselves feeling isolated when they transitioned from their full-time corporate positions into dual family/business woman roles. "There's no better investment for women in business to make than in one another," they determined. And I believe they are right. Shortly after launching my blog, I began to share some of our SAGE postings on Project Eve. Recently, I was honored to be named a contributing editor for the site.
The Story Exchange – If you're looking for some daily inspiration on the global energy that helps drive human enterprise (which, in turn, drives the expected growth of our capital markets), I can think of at least 1,000 reasons to visit this site, which profiles women business owners from around the world. I recently added my own story to the site's 1,000 Stories Campaign.
---
SAGE Serendipity
We may have come a long way since the Suffragettes secured our voting rights, but you may be surprised by some of the things Ms. magazine reports women could not do before the 1970s.
---