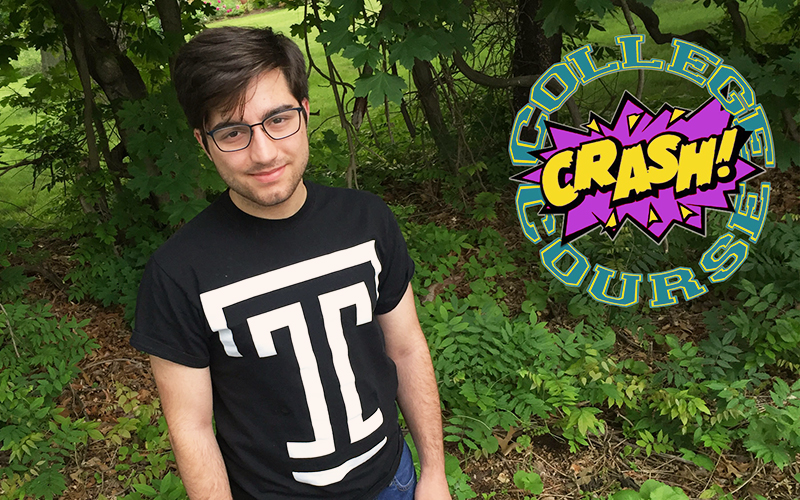 SAGEbroadview's Crash Course in College Admissions Part IV: The Drama of a Theatrical Program
Following up on Sheri's insights  from Devon's search for a musical program, Wendy Vissar reflects on the challenges that she, her husband Michael Slackman and their son Nikolas have encountered in his desire to pursue a career in theatrical arts. As long-time neighbors and good friends, Nik and Devon are both about to make their way into the wider world. We hope they remain close to us and one another as their adventures unfold!
Prep Work: A Mother's Worries
Even as Nik was entering high school, we knew that every grade was going to count. Even my younger son's baseball coach once told us that every "A" a student does not receive in high school can knock him further out of contention for his first-pick colleges. Talk about pressure.
That's a hard lesson to accept. As parents, we worried whether it was too much to expect our son to maintain a high GPA, slam dunk his SAT/ACT scores … and be a kid. As we prepared for the future, we leaned on one another to find the right balance for Nik.
In our case, Nik had a great GPA, but he found the standardized testing more difficult. To help with that, we enrolled him in intense SAT prep classes to lift his testing scores. The classes helped, as did his strong GPA. Nik was able to receive a number of scholarships, and he will be able to enter the honors program at his chosen alma mater, Temple University.
On the flip side, had his SAT scores been a touch higher, he might have received even more scholarship money, and he could have qualified for early registration. These are small differences that may or may not matter in the end. I think the point is to make the most of your child's natural strengths, and candidly address the inevitable challenges as you're able.
Exploring the Field: A Son's Debut
Parental stress aside, parts of the college admission process were fun and fulfilling. My favorite part was visiting college campuses with Nik. It turned out to be a deeply bonding experience.
While we held back as parents (as best we could), we tried to give Nik space to roam and discover on his own. As he took it all in, it was clear that we weren't just dragging him into this. He invested in the experience as never before. He wanted to visit every library to check out their playwriting, movie and music collections. Most of the colleges offered special theater department tours, conversations with current students, class visits and performances to attend. Nik also was interested in the vibe of the surrounding neighborhood – the grittier the better. After all, much of his youth was spent in Cairo (as in Egypt), where we were on assignment as journalists. That's our son!
Challenging Choices, Family Decisions
In many ways, we are grateful that Nik was accepted by two of his top four picks, plus he remains on the wait list for a third. The good and bad news is, this gave us choices to consider.
One of his favorite picks was the prestigious New York University Tisch School of the Arts. All his friends were impressed when he was accepted there … and surprised when he decided to take Temple's offer instead.
Nik was familiar with and fond of the NYU program. He has already attended its summer college program for high school students, so he knew what the dorms and acting studio would be like. Being in proximity to the Theater was amazing as well.
For all that, his visit to Temple convinced him it was the better fit. He met the 16 kids in its acting concentration, all of whom were busy and enthusiastic. Happy. Professors stopped to talk to him in the hall and gave him real time. He went to classes and saw a play.
That's not to say the choice was easy. A prestigious school on your resume can have its own rewards. A friend of ours who knew of our dilemma encouraged us to read the chapter about making college choices from Malcolm Gladwell's "David & Goliath: Underdogs, Misfits, and the Art of Battling Giants). I recommend it to other parents as well; it helped us think through, and ultimately overcome the sway of a "name school."
In the end, Temple promises to offer a solid program for a third of the cost. Other kids are graduating with $100,000 in debt. That's a heavy burden on their lives and their dreams. We hope Nik will be able to graduate debt-free, with the freedom to pursue a graduate degree, become a starving artist, or explore any other opportunities that may appeal to him.
In short, we can't wait to see what will come out of this, Nik's opening act!
---