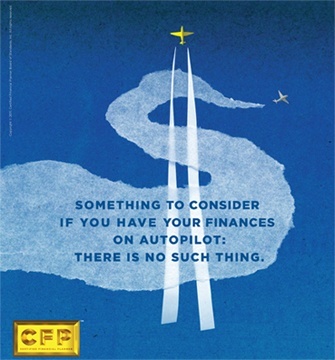 Why CFP® Certification Counts

From "It's a Wonderful Life" to "Wall Street," Hollywood often lends an aura of drama to the financial industry. In reality, the daily life of a Fee-Only financial professional isn't exactly edge-of-your-seat stuff. Our idea of "exciting" is a controversy unleashed last December, when the National Association of Financial Professionals (NAPFA) announced that members of their professional ranks now must be CERTIFIED FINANCIAL PLANNER™ certificants who hold the CFP® mark. The new requirement affected only a sliver of NAPFA's 2,400 members, but the financial press and social media went abuzz with opinions applauding and criticizing the new policy.

Why such a fuss over three little letters? Did the rule represent a long-overdue acknowledgement of our industry's need for basic financial credentials? Or, as some of the critics asserted, was it an unnecessary power-grab by the CFP Board? As a long-standing NAPFA member and CFP® professional, I agree that the new requirement represents a positive move toward applying additional standards in our industry, where it's all too often a bit Wild West on what constitutes professional advice.

As one article described the decision, "The NAPFA National Board recognized the need to support the financial planning profession by selecting a singular professional designation in the same way the public trusts that those holding a CPA, MD, or JD are meeting education, training and ethics requirements." The Financial Planning Association lauded the effort as contributing to its "One Profession, One Standard" theme.

But why the CFP® certification? Is it any more familiar to the public than any of the other designations you may see following financial professionals' given names? Probably not. But I'm just as proud of my CFP® certification as I would be of any advanced degree. While less familiar to the public, the credential demands as much education as well as demonstrated, hands-on acumen. Achieving it is a multi-year process, with no easy rubber-stamp approval in sight. One must prove one's mettle every step of the way:

Step One: Meet the educational requirements (including holding a bachelor's degree). Our team member Chris Annello is pursuing his credentials at this time and can personally attest to the number of hours required to study and prepare, as evidenced by his reading list in our recent blog post, What SAGE Reads.

Step Two: Pass the exam. A 10-hour exam (yes, 10 hours!), taken in three sessions over the course of two days. And, with an average pass rate of approximately 55–60 percent, many successful candidates must sit for the exam more than once. (I swore I would pass it the first time – and thankfully did just that. Our Senior Advisor, David Principe, made the same vow – and he passed the first time too. Alright Chris, the pressure is on…)

Step Three: Meet the experience requirement. Similar to the required internship period for physicians, CFP® practitioners must demonstrate that their book learning translates to real-life delivery. The CFP Board requires "three years of full-time relevant personal financial planning experience, or two years of Apprenticeship experience that meets additional requirements."

Step Four: Satisfy the fitness standards. Thankfully, we're not required to drop and give them 100, or I would probably still be working on my credentials. This is about demonstrating one's ethical fitness. Candidates must complete an Ethics Declaration and are subject to a background check.

Step Five: Receive authorization. Only after all of the above steps are completed is a candidate able to apply for certification.

Step Six: Continuing education. Once certification is achieved, it takes 30 hours of continuing education every two years (including two hours of ethics education) to maintain one's credential.

Personally, I'd love to see a day when the CFP® mark is as commonly recognized as an MD is for a physician or a PhD for a professor. The CFP Board has in fact launched a campaign to increase its visibility, and you may even have already seen one of their public service ads, brochures or announcements in the popular press. While I'm not holding my breath for that day to come, I am doing what I can to help spread the word.
---
SAGE Serendipity: To you, "SS" may mean spreadsheet. To others, it may mean anything from safe sex to J.K. Rowling's, "Harry Potter and the Sorcerer's Stone." If you find yourself "So Sorry," but you're just not sure what an acronym means, try looking it up at http://www.acronymfinder.com/. Or you can create your own at http://acronymcreator.net/. Type in your name and see what you get! That's some more SS (SAGE Serendipity).
---