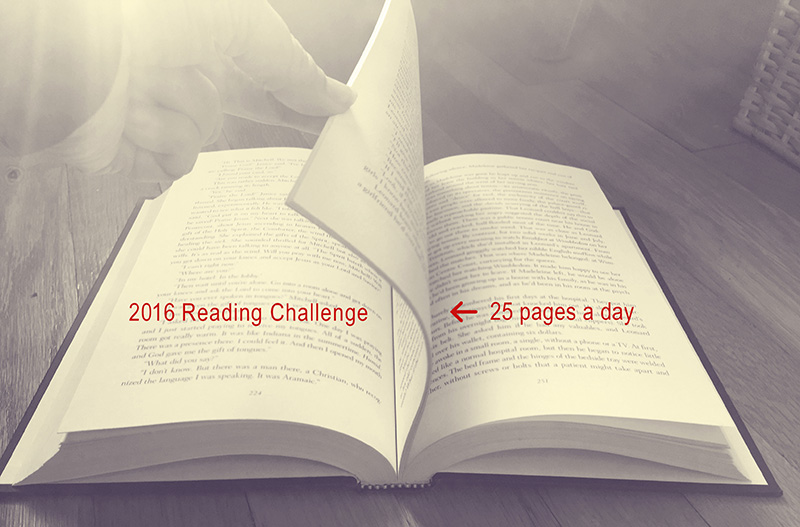 What Sheri's Reading: 2016 Reading Challenge
Good news! Since I achieved my 25-book 2015 Reading Challenge with time to spare, I've upped the ante, setting my Goodreads 2016 Reading Challenge at 38 books.
Gulp. Fortunately, I've got a great source of SAGEbroadview inspiration to help me achieve my lofty goal. Larry's son and Chris' younger brother Jeff Annello recently joined Shane Parish at Farnam Street. This is an enviable position indeed, but it's no doubt a time-consuming one as well, as evidenced by Jeff's post, "Just Twenty-five Pages a Day."
His suggestion is simple but brilliant: Chunk it. By committing to taking on just 25 pages each day, we book-aholics can enjoy our awesome careers as well as our Admirable Addiction. You might say we can have our books and read them too.
I'm pleased to report I'm off to a good start…I've read 7 books so far this year. Why don't you set your own reading challenge – and join me!
Here is some shorter fare you might find of interest:
By the way, these articles were all recently posted to my Twitter feed. Next week on our blog we will share a primer to help you get started on Twitter.
---
Sage Serendipity:  There are some books so intense that the word 'challenge' is the perfect description.  In this week's New York Times Book Review Tom Bissell wrote an essay for the anniversary of Infinite Jest: Everything About Everything: David Foster Wallace's 'Infinite Jest' at 20.  

Bissell discusses in his essay, adapted from from the book's foreward, what makes this (or any) book a classic. On the author's challenge of a book withstanding the test of time, he writes:  "David Foster Wallace understood the paradox of ­attempting to write fiction that spoke to posterity and a contemporary audience simultaneously."  There is also the reader's challenge: "To fully understand what Wallace was up to, the book bears being read, and reread, with Talmudic focus and devotion. For many Wallace readers this is asking too much. For many Wallace fans this is asking too much. "

Maybe 25 pages of Infinite Jest a day would be a great 2016 challenge in itself. At 1,104 pages, 25 a day will take about 44 days to finish.
---