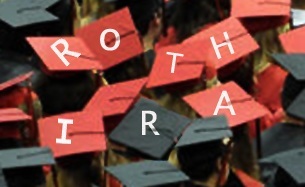 Time Is Money – Start Saving Now

BY GUEST AUTHOR: CHRISTOPHER J. ANNELLO, ASSOCIATE ADVISOR
This article was inspired by Sheri's niece, Jessica Iannetta, a newspaper and online journalism and political science major at Syracuse University, class of 2015.

When I was in college, my dad gave me a "cool" gift – or so I thought at the time. Looking back on the gift now, it was the BEST gift. Before I tell you exactly what it was, I will tell you this:
It came with a bunch of paper stuffed in an envelope.
I won't be able to use the gift until more than 40 years from now.
It requires me to make financial sacrifices for years to come.
I know what you are thinking: "That's not a cool gift. It seems closer to 'getting the ugly sweater from your Grandmother' type of gift."
So what was it? It was a Roth IRA funded with $500. As a bonus, it included pages of calculations showing the magic of compounding interest over time, as well as some SAGE advice from my Dad, who said to me:
"If you start saving for retirement now, you'll have to save less and you'll have a lot more money in the end."
It's too bad my dad couldn't share his wisdom with the entire world, because we hear in the news all of the time that Americans are failing to save enough for retirement. A recent Wall Street Journal article, "Workers Saving Too Little for Retirement," cited a March 2013 study from the Employee Benefit Research Institute: "The percentage of workers who have saved for retirement plunged to 66% from 75% in 2009."
Perhaps we need to give my dad a megaphone. Or maybe they just need to remember the adage we've all heard: Time is money. To illustrate:
Both Chris and Jeff work and earn at least $5,000 of income each year. Chris, age 20, decides to contribute $5,000 per year to a Roth IRA until he is 30 years old. Then he stops contributing. Chris' brother Jeff decides to wait until he is 40 years old and then starts contributing $5,000 to his retirement account until age 65. Jeff's rationale is that, because retirement is so far away and he's so young, he'll have plenty of time to save for retirement later. Assuming Chris and Jeff both earn an 8 percent annual return on our investment, who will have more money?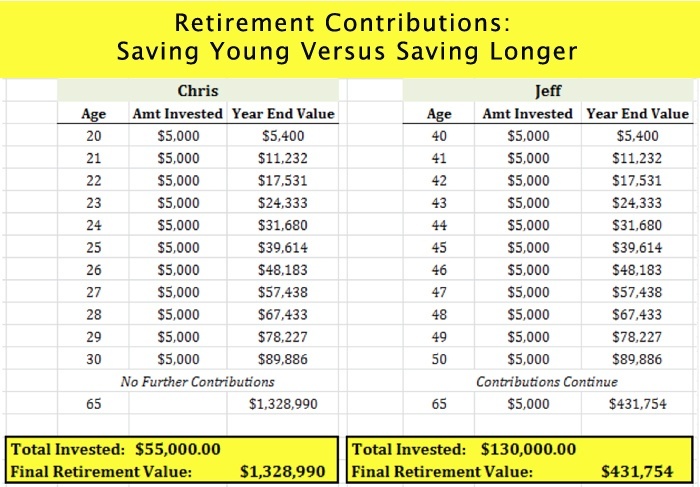 The numbers say it all. If you are a young adult who just brought home your first paycheck or if you're the proud parent of such a young saver, now's the time to start. If you can begin saving young and contribute regularly throughout your life, the possibilities are even more dramatically in your favor. In this day and age, with disappearing pensions and extended life expectancy, it's all the more important that you start to plan for your retirement early in your career. And yes, it really does make that much of a difference.