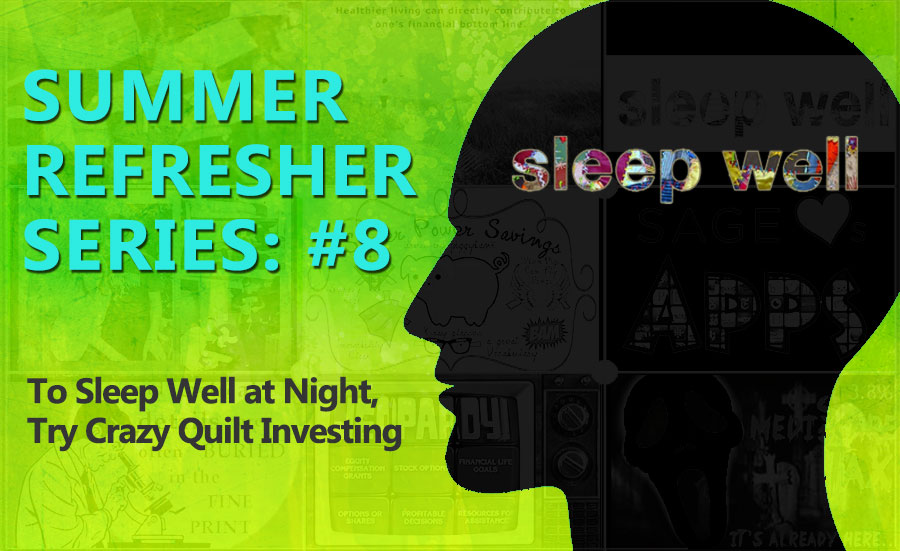 Summer Refresher: Crazy Quilt Investing

Today we revisit one of the most refreshing investment ideas we know: the randomness of near-term market returns.

Pick a year, any year. If you're ever tempted to guess how capital markets are going to fare in the year following, all you have to do is take a look at this crazy quilt chart, updated here to reflect 2015 year-end data. That should quickly refresh your memory on how impossible it is for you or anyone else to predict how next year's ranks of returns are likely to stack up.
---

To Sleep Well at Night, Try Crazy Quilt Investing
Originally posted: May 14, 2014
In our last post, "As Close to a Market Prediction as We'll Ever Make," we shared a visual depicting long-term market growth during the past 80+ years. Today, let's zoom into a close-up view of various annual asset class returns. Formally entitled "The Randomness of Returns," this image by Dimensional Fund Advisors has long been popularly referred to as "the crazy quilt chart." It's easy to see why.
Each color represents a particular asset class. For example, dark blue is U.S. large company stocks. Gold represents several types of international stocks. The green squares are various kinds of high-quality fixed income. Each column in the chart stacks all these investment types from the best- to the worst-performing asset class for that particular year.
If you'd like, you can click on the image to enlarge it. But the main point is readily seen at a glance, with no need to overthink it. When we show it to investors, we ask: Based on what you're seeing here, what do you think we can expect next year? The usual response – appropriately – is a chuckle. Clearly, it's anybody's guess.
In the world of fabric, crazy quilts make good use of material that is simply too irregular to fit into a repeatable motif. The blanket may be a work of beauty, but the parts defy any pattern. That's a great way to think about our capital markets too. By spreading your investments across a broad range of asset classes, you can expect to sleep well-covered at night. Fixate (or chase) the parts instead of the whole, and you just may drive yourself crazy.
---
SAGE Serendipity: The BBC recently surveyed 177 film critics from around the world to determine the 100 greatest films from the 21st century. OK it's only 15, 16 years but with The 21st Century's 100 Greatest Film's list the BBC said "we wanted to prove that this century has given us films that will stand the test of time, that you will continue to think about and argue about if only you give them a chance and watch them."  Enjoy!
---