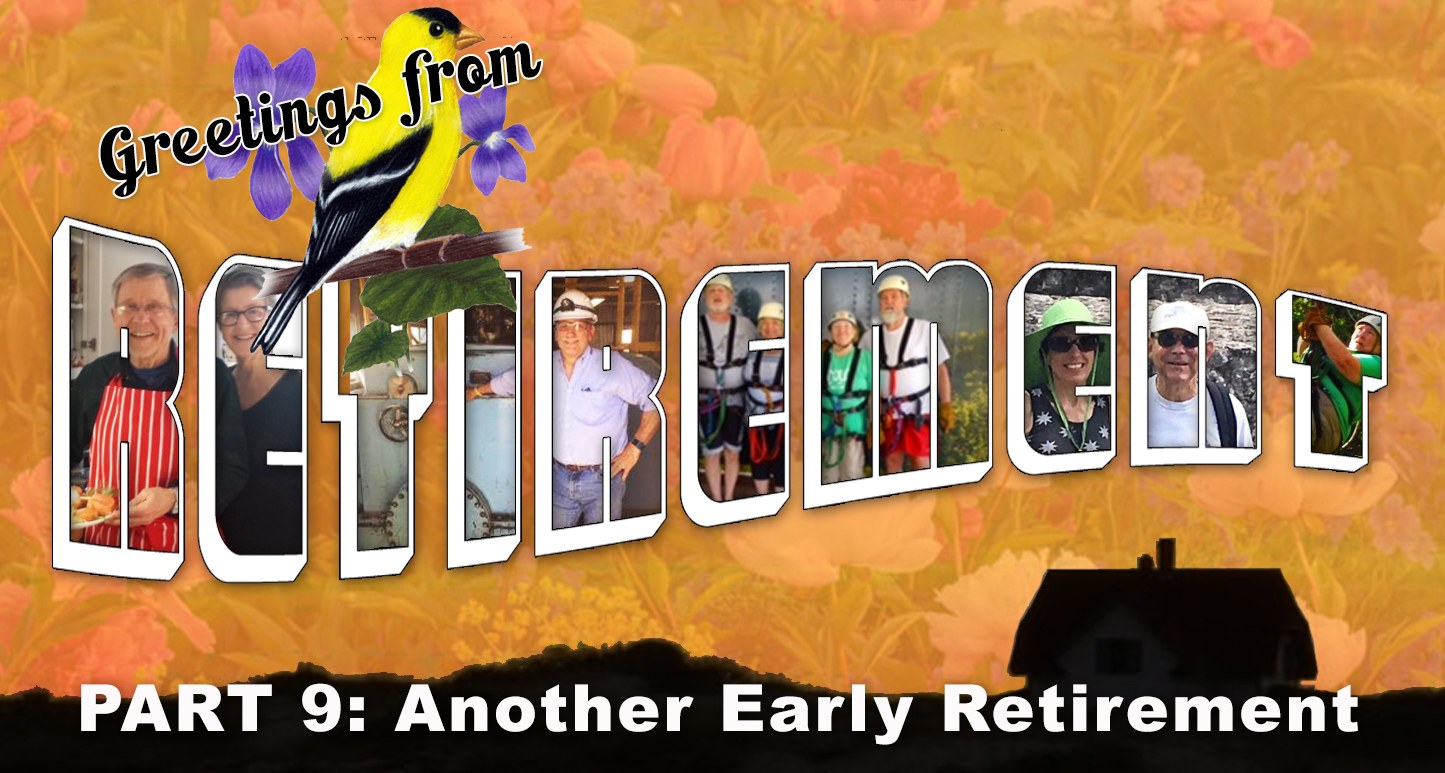 Sheri's Summer Retirement Summary Part 9: Another Early Retirement Illustration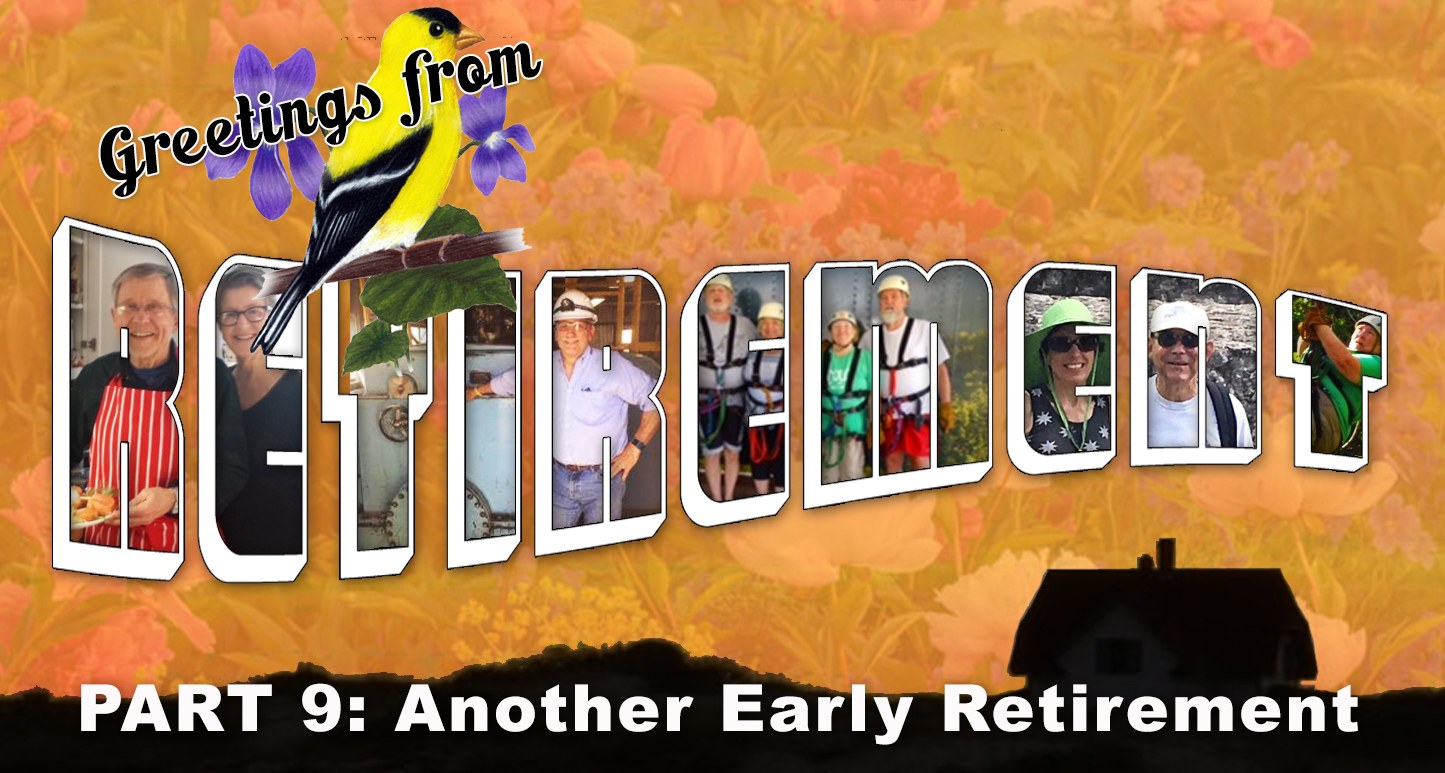 As I covered in my last post, not every early retirement fits the stereotypical mold of becoming a multimillionaire by age 30, cashing in one's chips and heading off to paradise.
Sometimes, early retirement finds you instead of the other way around.
Such was the case for Jack Pasanen,  when he retired to help care for an ailing family member. Healthcare concerns struck even closer to home for our clients Tom and Maryann Polefka when Tom was diagnosed with a serious illness last summer.
Early retirement was not in Tom's cards, even though he was the one who fell ill. Thankfully, an aggressive treatment program has worked wonders for him so far; he's now in remission and we're all hoping for the best.
Even before he was diagnosed, Tom had been planning to retire at age 65 from his career as a cosmetic chemist. If you're wondering what that job might entail, consider that he entered his career with a PhD in biochemistry. Before he became an independent consultant, his employers included Colgate-Palmolive, where he worked his way up from a bench-level research scientist to a senior director, as well as Johnson & Johnson, where he ended up working in a start-up venture doing everything from "leading a research team to sweeping the floors in the lab."
Twice, he almost managed to retire early. When Colgate offered him a voluntary retirement package in 2006, he took it, figuring he'd at least stop working the 50–60 hour weeks to which he was accustomed. But then Johnson & Johnson wooed him back into his routine with an offer to be part of an internal venture involving Nobel-laureate level research. Unfortunately, the theories didn't pan out in practice, so a couple of years later he found himself almost retired once again. That didn't last long either. A number of companies he'd collaborated with through the years sought out his services, so he founded his own consulting firm and kept at it.
After two halted attempts at retirement, Tom began to make more deliberate financial and logistical plans, resolved to make the third-time stick. "I enjoyed my work, but I still found it to be work," says Tom. "I didn't want my tombstone to read: He was a great cosmetic scientist."
Tom ended up retiring right on the traditional schedule of age 65. But in the meantime, his health scare caused his wife Maryann to re-think her own schedule. "It helped me visualize that I didn't want to work full time, all the time, and maybe not be around to enjoy retirement when I'm still healthy and Tom's getting healthier," she explains.
So, just last month, Maryann retired at age 60 from her own career in the sciences. She and Tom met in a biochemistry lab, early in their respective careers. Maryann then took a mini-retirement to raise their daughter. When she returned to the workforce, she decided she enjoyed science, but also craved the social engagement that lab work didn't offer. She decided to become an environmental educator – first for the Girl Scouts and then, most recently, as Assistant Director of Education for the Stony Brook-Millstone Watershed Association.
Having so recently retired, Maryann reports that it still feels mostly like an extended vacation. They both agree they'll remain engaged in their scientific interests, and they both intend to apply their talents to volunteer activities.
There are new interests they share, as well as more time for existing ones, like practicing yoga, taking longer bike rides, and attending educational seminars. Because Maryann always ran summer day camps during her career, Tom notes they'd never been able to enjoy summer outings as a couple. "Yesterday was the first time we'd ever been to the Jersey Shore together in July," he says.
They also enjoy pursuits of their own. For example, Tom has become a Master Gardener and Maryann is interested in ethnic cooking. Tom describes this as each having their own biorhythm. Maryann states it more plainly: "Just because we're retired, we won't be spending every single day together." If nothing else, they joke, the cat finds it too confusing.
Tom has labeled this new phase in their life as Purposeful Retirement, or "not just sitting around." On Maryann's part, she's looking forward to having more time to "literally stop to smell the roses and other flowers."
Then, ever the environmental biologist at heart, she adds, "And I'll pick the bugs off too."
SAGE Serendipity:  We are looking up again!  The solar eclipse is on August 21. The New York Times has written many articles to enable you to get to see the totality, where there may still be places to stay, how to watch it and many history's.  Here is a NASA map (click on it to enlarge) that follows the trajectory and what percentage will be visible from your location in the US.  If you were alive in 1970 you may have remembered seeing the last one that passed by through. It's hard to find the proper viewing glasses, they're sold out in many locations, and many sold on amazon.com have been fake.
---