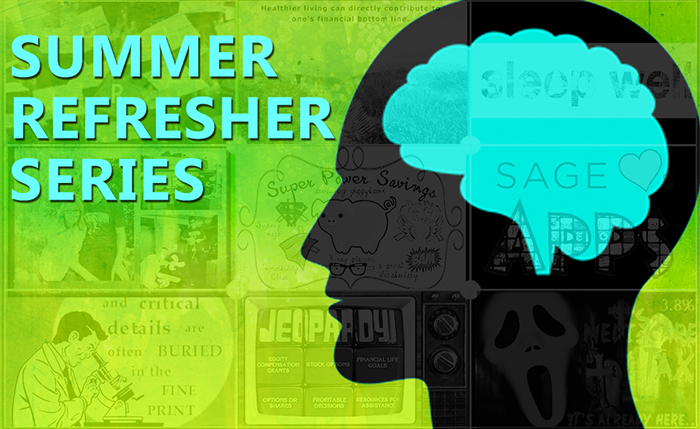 Sheri's Summer Refresher Series Introduction
If you have been following our SAGEbroadview blog for a while, you probably already know that we have long endorsed taking time away from work now and then to enjoy friends, family and a bit of free time. Here is one of our most recent posts about how to Appreciate the Wealth of Your Life.
To put our values into action, we like to take a break each summer from our weekly blog production by preparing some posts in advance. Two summers ago, we shared a series of Evidence-Based Investment Insights. Last summer we offered a collection of Investment Basics. This summer, we introduce (drum roll please): Sheri's Summer Refresher Series.
Since we began blogging back in 2013, we've published just north of 250 posts. Hopefully each one of them has been helpful in its own way but, unlike our children, we do have favorites. Some of them have stuck in our mind as being particularly and timelessly important to families' financial life planning.
That said, if there's one thing we know about life, it's how insanely fast it flies by. Even if you are among our most avid readers, you may well have missed some of our posts the first time, or at least forgotten them by now.
That seems like a waste of good blogging (if we do say) so, during the winter months, Sheri took a stroll down memory lane and selected eight of her favorite posts from the SAGEbroadview 2013–2014 archives.
For the next couple of months, we'll share a reprint of each, along with a few fresh comments about why it qualified as a top pick. So, without further ado, welcome to Sheri's Summer Refresher Series. Go grab your favorite refreshment, and be on the lookout for our first installment, coming soon.
---
SAGE Serendipity:  Going on vacation and want to pack tech smart? Here is a guide from The New York Times Personal Tech column,  Devices That Deserve to Go Along on Vacation. This can help you scale down on tangled cords in your suitcase by scaling down your accessories.  It also has a link for some great recommendations if you need to purchase some devices. Happy travels!
---