Anatomy of a SAGE Makeover: Style and Substance

Start spreading the news! To better reflect what's fresh as well as what's familiar about us, SAGE ADVISORY GROUP has just finished rebranding our all-new logo and website.
Not because anything essential about us has changed. Our mission remains the same:

"We are professionals, helping other professionals unclutter their financial affairs, 
so they can get on with their busy lives and careers."

But after more than a decade of offering clients SAGE financial life planning and money management, we decided it was high time for our outward style to better complement our inner substance.

Our new logo is …
Historically grounded.
Our logo is inspired by the richly decorated letter known as a "historiated capital," which appeared in early Latin manuscripts. This oversized letter offered an appealing, page one, preface to a story yet to be told. Over time, these same letters began appearing within dynasty crests and coats of arms, to reflect multigenerational strengths and values. Our logo thus reminds us that our clients' personal stories and cherished family relationships occupy the first and largest concern in our relationship.
Forward-focused.
Informed by the symbol of a weather vane, our logo also represents the steadfast guidance and direction we offer clients in the face of ever-shifting financial winds.Clean and classic.
For the words in our logo, we selected the Gotham Book font. Steeped in the history of New York City, this approachable font has graced book covers, movie posters and skyscrapers, combining simple readability with a powerful and progressive presence. The perfect font, we felt, to represent our SAGE outlook.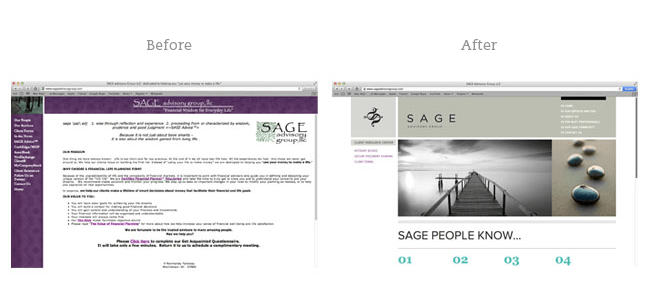 We're unabashedly proud of our new website design. When you look good, it's hard to not feel good too. And we definitely want our clients and guests to feel good about visiting our new site … often.
But our site is more than a pretty face. It makes best use of current technology to remain in closer touch with our visitors, even as the world grows increasingly mobile. Enhanced functionalities will help us build a virtual SAGE Community in which we can:
Better serve — Our Client Resource Center enables easy, home-page access to existing resources such as Account Access, Secure Document Sharing and common Client Forms.
Learn and educate — We've launched Our SAGE Community so we can interact with site visitors in postings just like this one that you're reading right now. We also invite you to engage with us further by signing up for our regular News and Updates.
Inspire and be inspired — You can read about our firm, our people, our services and our clients, and you can Contact Us with your own questions or suggestions.
Relentless curiosity, creative spark, timeless wisdom. These are qualities that have long shaped how we care for our clients at SAGE Advisory Group. We are delighted to share with you our updated logo, website and overall branding to more accurately reflect the personality we've had all along.
Style and substance. That's SAGE design.
---