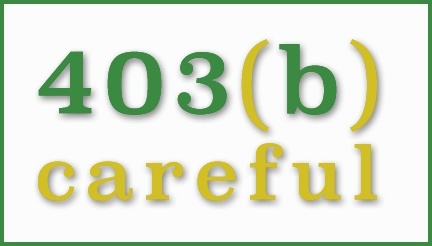 Giving 403(b) Plan Participants Their Due – Part 2

Part II: The 403(b) Plan: Pocket Change or Life's Savings?

As touched on in Part 1 of our two-part series on 403(b) plans, "A Call for 403(b) Plan "Higher Education," it was initially assumed that the 403(b) would serve as a supplement – not a replacement – for participants' traditional pension plan benefits. This may have made sense in the 1950's when the 403(b) plan was introduced and pension plans ruled the roost. But, especially for those entering the workforce today, it appears that pension plans may be going the way of the Dodo bird.

Either way, what does this have to do with how 403(b) plans are structured as a retirement savings vehicle? When the account is perceived more as an added frill than a retiree's lifeline, it appears that regulators, providers and participants alike may not be as serious about ensuring that the structure is as ship-shape as possible. As a July 2012 Kiplinger article on the subject observed: "The 403(b) marketplace for elementary and high school teachers in public schools is frequently described as the 'Wild West' because of the lack of oversight."

A lack of oversight can result in plans that are "managed" more by a confusing array of commission-based sales teams than by professional advisors, duty-bound by fiduciary obligation to serve plan participants' highest interests. (The 401(k) industry is plagued by similar conflicts, but at least we feel that, there, the regulatory activity seems to be slightly more proactively combating the tendency. Frankly, both industries have a long way to go on this front.)

To cite some illustrations:
In the same Kiplinger piece, Wichita, KS teacher and grassroots 403(b) reformer Tracy Callard says, "I think people have no idea what they're buying. A salesman will bring a big sandwich to the teachers' lounge and chat up the teachers, and the next thing they know, they are signing up for a direct investment from their paycheck with no understanding of the fee structure."
In January 2012 Wall Street Journal coverage of Dougherty County, Georgia's efforts to improve its school system's 403(b) plan, the school's executive director of finance and operations Robert Lloyd says: "What we had was a multitude of vendors, maybe 13, and everyone was coming in saying, 'Mine is the best.' … You've got teachers trying to retire with a reasonable standard of living, and people, probably making a lot more money than they are, trying to push them into inferior products to earn high commissions."

A 2011 USA Today piece, reported: "In California, teachers must muddle through more than 3,000 investment options from more than six dozen providers, according to a study by investment firm TIAA-CREF. Many of the plans included high-cost annuities and other insurance options, the study found."
Before we move on, it's worth repeating that insurance and insurance providers are not inherently flawed. There is often a place for appropriate risk management within one's wealth plans, and some providers serve as agents for positive change. For example, the aforementioned Wall Street Journal article reports on how "low-cost insurer and fund firm TIAA-CREF, which has long dominated the higher-education sector, sought to stir the pot of change in elementary and secondary schools with a report in late 2010. It concluded that an educator participating in a 403(b) plan that screens providers to hold down fees can potentially accumulate tens of thousands of dollars more in retirement wealth over a career than a colleague in a plan that doesn't screen and has high fees."
Next Steps
In light of these revelations, what can you do to effectively manage your 403(b) plan assets?
Step One: Become Informed. We encourage you to take a closer look at the article links provided above, as well as additional, informative resources. To name a few:
Step Two: Consider Your Own Assets. In light of what you've learned, consider whether your own 403(b) plan assets are positioned as ideally as possible within available offerings. (If your employer offers a 457 plan in addition to 403(b) plan, you may want to explore whether a switch would be in your best interests.)
Step Three: Change the System. If you think your 403(b) plan may stand improvement, consider reaching out to your plan administrators to inspire change. Remember, your administrators are often contributing to these plans too for their own retirement, and would equally benefit from improvements.
Humorist and theologian Gilbert Keith Chesterton (1874-1936) has observed, "The chief object of education is not to learn things; nay, the chief object of education is to unlearn things." If you could use some advice during your quest to "unlearn" traditional 403(b) plan offerings, please be in touch. SAGEbroadview stands ready to assist.
---
Sage Serendipity: In honor of Women's History Month, enjoy a retrospective photo exhibit, "32 Badass Vintage Photographs of Women and Motorcycles." Ride on, ladies!
---