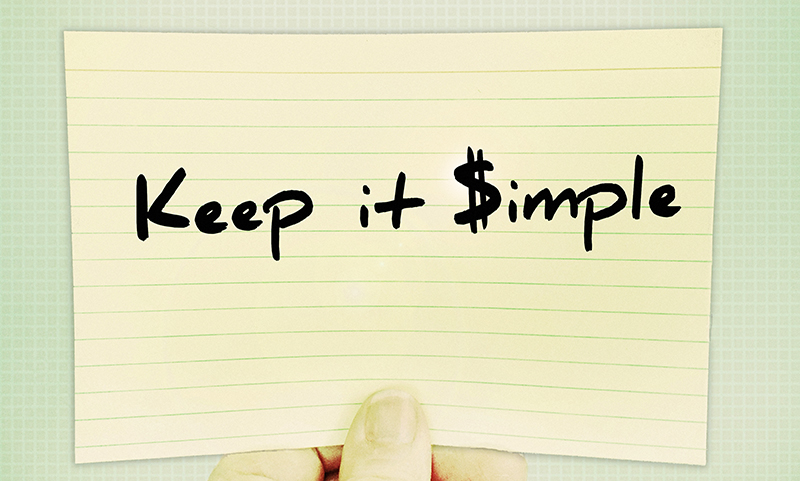 Financial Planning with Sage Simplicity
The power of elegant simplicity is certainly nothing new. When explaining the Tao of the universe back in fifth or sixth century BC, Lao Tze is said to have said, "A journey of a thousand [miles] starts with a single step."
But when it comes to financial planning, we have a way of making things complicated, fast. Fortunately, we have noticed a movement afoot to redirect our efforts back toward that first step – that admirable simplicity that helps us focus on the few financial essentials we really need to equip ourselves for our life's journey.
Can you fit your financial plan on a 3" x 5" index card? "The Index Card" co-authors Harold Pollack and Helaine Olen say that we can. Carl Richards expressed the same in his "One Page Financial Plan." In a recent New York Times column, financial columnist Ron Lieber challenged Pollack, Richards and a number of other simplicity advocates (including Dilbert cartoonist Scott Adams) to put their money where their writing was, and show us their financial planning index cards. Here are their collective, "Index-Card Financial Advice" results.
At SAGEbroadview, we decided to take the exercise one further and create our own cards, shared here.
What about your plans for 2016 and beyond? By taking a little bit of time to condense them to a single, simple card, you may find your own thousand-mile financial journey more approachable. Let us know if you could use some guidance along the way. We promise to keep it simple.
Sheri Cupo: "Financial Independence (Freedom), Invest in Health, Give Back"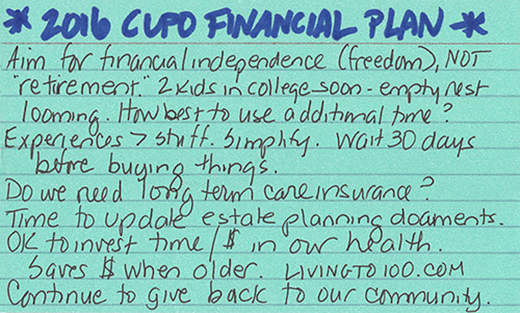 Larry Annello: "Do What You Like, Like What You Do"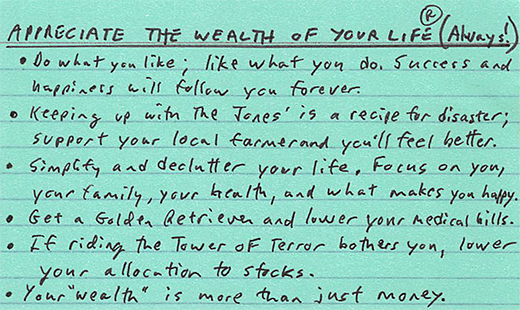 David Principe: "Educate, Good Habits, Get Started"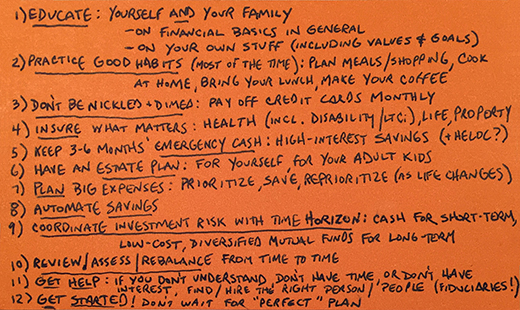 Lynn Baker: "College, Retirement, Enjoy Ourselves"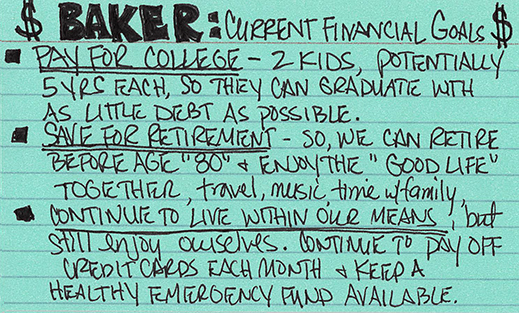 Chris Annello: "Baby on the Way, First Home, Charity"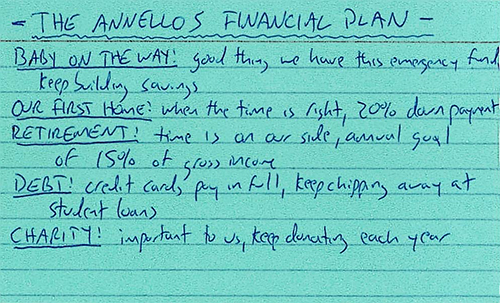 ---
Sage Serendipity:  Simplifying complicated subject matter like finances, and for that matter, political conflicts, is not always "simple."  Vox.com produced a must watch short video,  Syria's War: a 5-minute history, explaining the players and events leading to today.
---