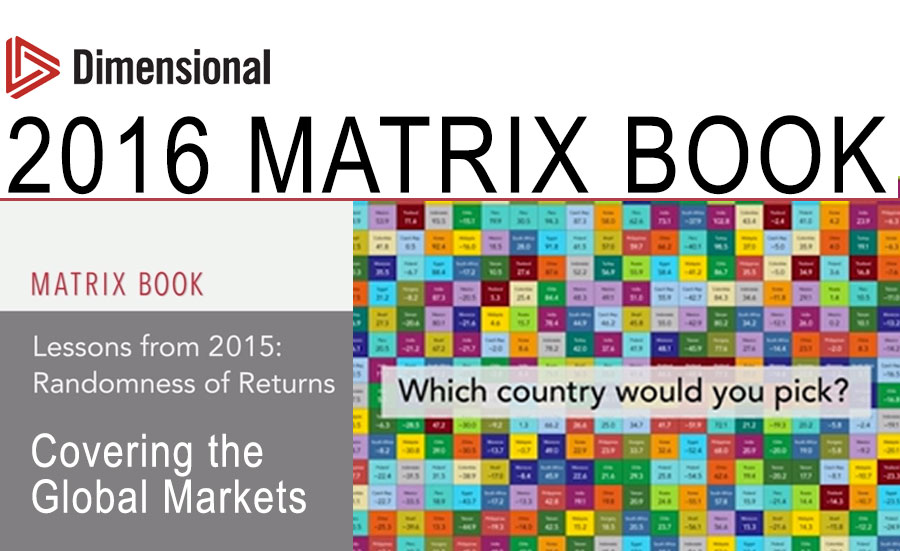 Dimensional's 2016 Matrix Book: Strength in Numbers Part 2: Covering the Global Markets
In our last post, we shared the first in a trio of videos illustrating the important insights we can draw from Dimensional Fund Advisors' Matrix Book of historical returns.
When viewed close up, the data points found in the Matrix Book may look like just an endless array of random numbers. But just as random dots of paint can generate a bigger picture when viewed from a distance, so can individual data points offer us a broad market perspective.
In this intriguing video, the most striking insight we glean from comparing the market's annual "winners" and "losers" is how purely random they have been. Clearly, the data offers us no ability to predict which corners of the market are expected to outshine the others from one year to the next.
Matrix Book Lessons from 2015: Randomness of Returns
Of 21 Emerging Market countries shown in the 2016 Matrix Book, which country would you guess has delivered the highest rate of return the past 20 years, and how would that compare to the US market? Check out the video, and you may be surprised by what you discover.
The point isn't to chase the returns of any one highly volatile investment, but rather to remember the big picture that these random returns generate. We've covered this subject before, in our May 2014 "Crazy Quilt Investing" post. That timeless image reminds us that a diversified approach remains an investor's best defense against a market that can leave those with overly concentrated positions out in the cold.
---
SAGE Serendipity: The World's 50 Best Restaurants list came out this week. The annual awards are judged by 1,000 chefs, journalists, and serious foodies.  They voted chef's Massimo Bottura's Osteria Francescana in Modena, Italy, the best restaurant in the world.  Here is an overview of the awards which were held in New York City this year.
---