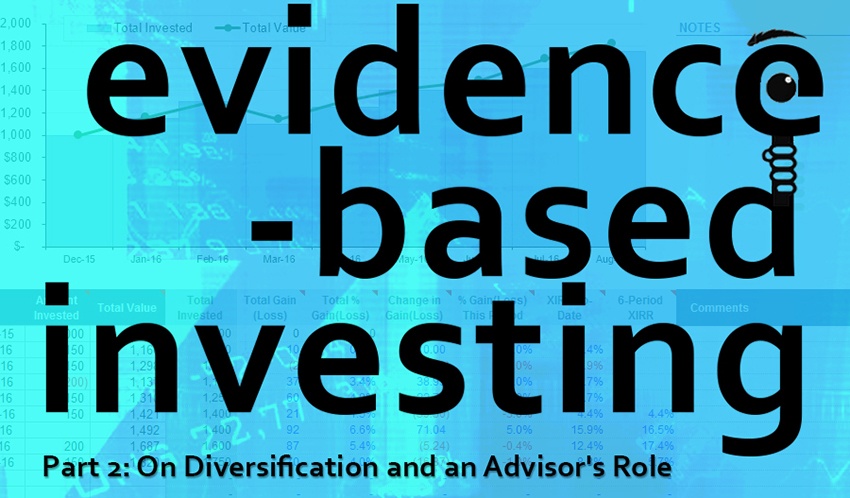 A Two-Course Take on Evidence-Based Investing Part 2: On Diversification and an Advisor's Role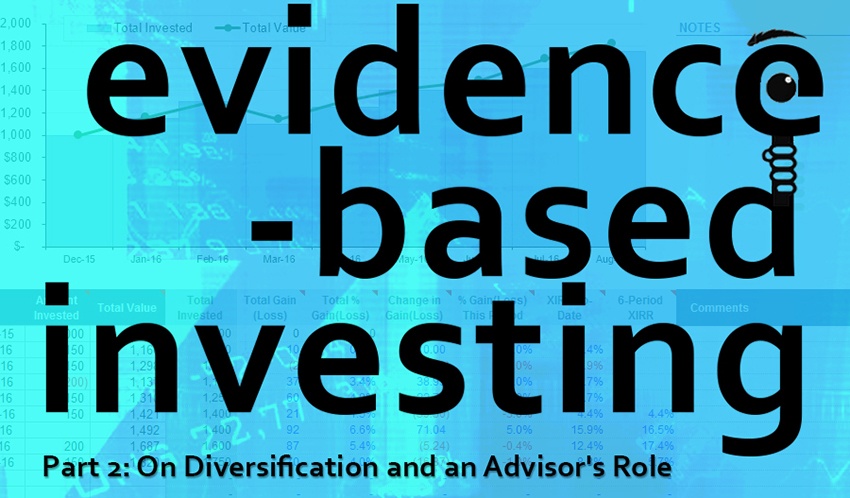 We're back! This week, we're following up on last week's post on how to combine practical application and academic science to impart a wholly stronger investment strategy. It's called evidence-based investing, and we are delighted to share excerpts of a conversation between two respected proponents of the approach: The Evidence-Based Investor journalist Robin Powell and Dimensional Fund Advisors Co-CEO Gerard O'Reilly, PhD.
You can read the entire interview on Powell's blog – here and here. Here are some of our favorite excerpts from part 2. [Note: British spelling and style guides are retained.]
On how market prices are set in general 
"Now the question you have to ask yourself is, at any point in time, do you think that investors, in aggregate, set prices to a level such that the expected return is negative? No. Investors don't sign up for a negative expected return when they're putting the value of their assets at risk. When they invest in stocks there's uncertainty about what their future wealth will be. They demand compensation to bear that uncertainty. So prices are set to such a level that the expected equity premium is positive."
On how extra premiums are expected
"As soon as you acknowledge that there can be differences in expected returns across stocks, it implies you have premiums. Now, the question becomes, what's the expected magnitude of those premiums? Could they decrease over time? That's a possibility, though it's something that's difficult to measure. … [I]f you take a measured approach, so that you still remain globally diversified, with thousands of stocks in your portfolio, even if the premiums are smaller or bigger (and you don't know what they're going to be in the future), you'll end up with a good investment solution."
On how to manage market volatility
"[W]hen you invest in stocks, there's going to be volatility. There's going to be tough times and good times. Set an asset allocation that you can live with, that has a good balance between stocks and bonds, so that you can ride out those tough times and stay disciplined, and then stop worrying. Markets are good at pricing information. They're good at setting themselves up to have positive expected returns."
On global diversification
"There will be years when small caps underperform large, or value underperforms growth, or high profitability underperforms low profitability. There will be some of those years. But by having a well-diversified portfolio that pursues all of those premiums, you smooth out those years a little bit."
On the benefit of a long time horizon 
"[W]hat's expected doesn't always happen. But the probability of what's expected happening increases the longer the holding period. … So for folks with long horizons, the probability of them realising those premiums goes up."
On an advisor's role
"A financial adviser can help explain what all those different asset classes are, how they come together, and then, when returns are disappointing, help keep the investor focused and disciplined. There are other aspects to having a financial adviser too. I have a financial adviser who can help me with tax planning, estate planning and all the different types of wealth planning … So you can really have a better overall experience across all aspects of your financial health through working with an adviser."
For another perspective on that final point, here's a conversation between Nobel laureate Eugene Fama and his colleague Kenneth French, on why even Professor French finds an advisor worth incorporating into his personal wealth management.
What other questions can we answer for you about evidence-based investing and overall wealth management? Let us know, and we'll hold our own interview with you!
---
SAGE Serendipity: The Apple Watch has been tracking our exercise since it came out but recently, Apple was awarded a patent for an Airpod-style charging case that can hold a watch and a number of "smart bands" that they hope will be able to monitor so much more (e.g. blood pressure, blood glucose).  Read Quartz.com's latest article: With these patents, Apple could win the next major platform war.
---